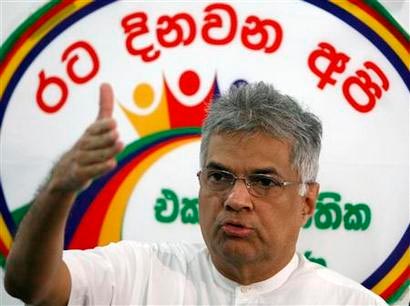 The government and the United National Party yesterday agreed to discuss a series of electoral and constitutional changes including the creation of an Executive Prime Ministership to replace the Executive Presidency.
Leader of the UNP Ranil Wickremesinghe told a news conference in Colombo that a consensus had been reached during yesterday's meeting between delegations from the two parties led by President Mahinda Rajapaksa and himself at Temple Trees.
Asked if he believed Rajapaksa was serious about replacing the Executive Presidency with an Executive Prime Ministership, Wickremesinghe said that they had agreed in principle to discuss electoral and constitutional changes. But how far the talks would progress was left to be seen, he said.
"We have seen talks break down in the past. However, we are prepared to discuss the creation of a people friendly constitution in which the President is answerable to parliament," the Opposition Leader said.
Citing former British Prime Minister Margaret Thatcher as an example, Wickremesinghe said that even under a parliamentary system of government, a leader could wield unbridled power. "The important thing is to have the necessary checks and balances, regardless of the system that was in place."
It was agreed to first discuss changes to the electoral system pertaining to local bodies as a pilot project. Various options would be examined including a mixture of the Proportional Representation and First Past the Post System. Once a consensus was reached, the same principle could be applied to provincial and parliamentary elections as well, Wickremesinghe said.
The implementation of the 17th amendment would also figure in the discussions, the Opposition Leader said.
When questioned, if the cross over provision which had led to so much confusion and could even lead to constitutional changes favourable to the government, had been discussed, Wickremesinghe said, "No, neither side came with a shopping list."
Wickremesinghe said that the UNP, while talking to the government, would also carry on its public agitation for an immediate reduction in the high cost of living and the creation of a people friendly constitution.
The Deputy Leader of the UNP Karu Jayasuriya and Joseph Michael Perera said that it was in the interest of the country at large to have a leader answerable to parliament.
Chairman of the UNP Gamini Jayawickrema Perera and General Secretary Tissa Attanayake also participated in yesterday's talks.
The government delegation comprised Ministers Nimal Siripala de Silva, Susil Premajayanth, Dinesh Gunawardena, Prof G.L.Peiris, Basil Rajapaksa and Dallas Alahapperuma.
The Island