Opposition MPs assaulted in parliament
Posted by Editor on November 22, 2011 - 7:02 am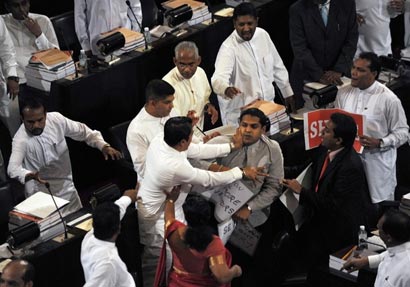 The leader of the opposition in Sri Lanka says himself and a group of opposition MPs have been assaulted in the parliament chamber after the president presented the budget.
Ranil Wickramasinghe, MP, said a number of opposition MPs were admitted to the hospital after the assault by the government MPs.
The assault has occurred after the United National Party (UNP) MPs have protested the budget and the recent court ruling that sentenced former MP Sarath Fonseka for another three years.
The parliamentarians, including him, were assaulted in front of President Mahinda Rajapaksa who presented the budget, said Mr Wickramasinghe who had difficulty in walking after the incident.
Budget proposals
"We were shamelessly assaulted at a time the whole world is watching. This is like Libya during old days," he told the journalists.
The budget presented by President Rajapaksa in his capacity as the finance minister included "a series of proposals to help uplift the socio-economic conditions," the government said in a statement.
This year's budget that proposes to regard the welfare of families of security force personnel "as a priority" also proposes to give a salary increase of 10% of the basic salary to all public servants and those in the defence sector.
The UNP MPs were assaulted after an MP questioned about the welfare of former military commander Sarath Fonseka.
Noting that the government increased the minimum salary of public servants by Rs 1,200 last year, the president said public servants obtained a real increase by Rs 1500 to Rs 3000.
Forecasting an economic growth of 8%, the government expects to reach a per-capita income of US$ 4000 will be realized by 2016.
Sri Lanka's rate of unemployment has declined from 8% to 5%, while the population below the poverty line has declined from 15.6% to 8.9%, according to the budget proposals.
BBC / Pix by Getty Images / AP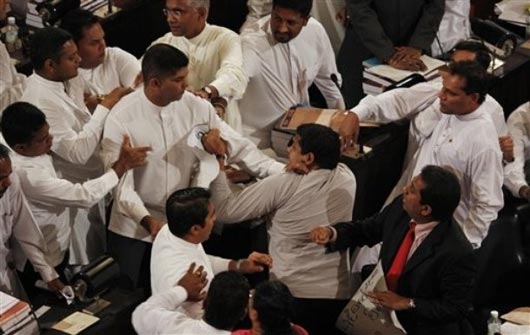 Latest Headlines in Sri Lanka