8 dead as truck mows down bike path in lower Manhattan
Posted by Editor on November 1, 2017 - 8:11 am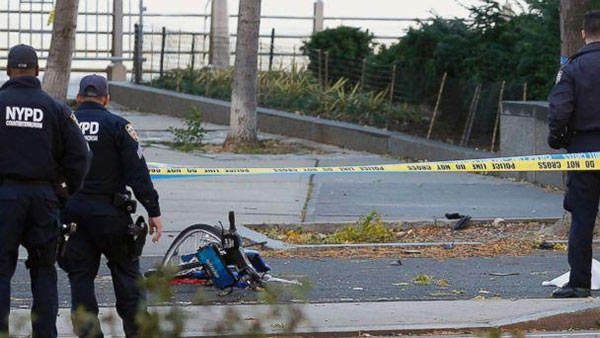 A driver plowed a pickup truck down a crowded bike path along the Hudson River in Manhattan on Tuesday, killing eight people and injuring 11 before being shot by a police officer in what officials are calling the deadliest terrorist attack on New York City since Sept. 11, 2001.
The rampage ended when the motorist — whom the police identified as Sayfullo Saipov, 29 — smashed into a school bus, jumped out of his truck and ran up and down the highway waving a pellet gun and paintball gun and shouting "Allahu akbar," Arabic for "God is great," before he was shot in the abdomen by the officer. He remained in critical condition on Tuesday evening.
Mayor Bill de Blasio declared the rampage a terrorist attack and federal law enforcement authorities were leading the investigation. Investigators discovered handwritten notes in Arabic near the truck that indicated allegiance to the Islamic State, two law enforcement officials said. But investigators had not uncovered evidence of any direct or enabling ties between Mr. Saipov and ISIS and were treating the episode as a case of an "inspired" attacker, two counterterrorism officials said.
Mr. de Blasio said at a news conference, "Based on information we have at this moment, this was an act of terror, and a particularly cowardly act of terror aimed at innocent civilians."
The names of the victims had not been released by Tuesday night. The Belgian and Argentine governments said their citizens were among the victims.
Mr. Saipov came to the United States from Uzbekistan in 2010, and had a green card that allowed permanent legal residence. He had apparently lived in Paterson, N.J., and Tampa, Fla. An official said he rented the truck from a Home Depot in New Jersey.
(New York Times)
Latest Headlines in Sri Lanka