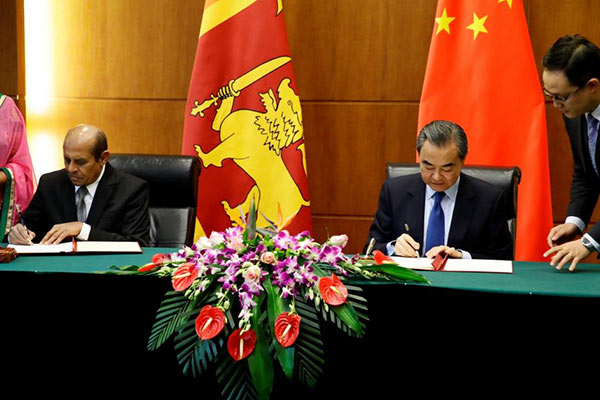 Sri Lanka is keen to reach agreement soon on a free trade deal with China, its foreign minister said on Tuesday, describing Beijing as a close friend and ally, despite strong local opposition to some major Chinese-invested schemes.
In July, Sri Lanka signed a long-delayed $1.1 billion deal to lease its southern Hambantota port to China, ignoring an appeal by opposition parties to debate the pact in parliament.
The $1.5-billion port, close to the main shipping route from Asia to Europe and likely to play a key role in China's "Belt and Road" initiative, has been mired in controversy since a Chinese firm agreed to take an 80 percent stake in it.
The pact signed last year sparked widespread public anger, as Chinese control of the port, which included a plan for a 99-year lease of 15,000 acres (23 sq miles) to develop an adjacent industrial zone, provoked fears it could be used by Chinese naval vessels.
Sri Lanka Foreign Minister Tilak Marapana told a reception in Beijing to mark the 60th anniversary of establishing diplomatic ties that the two countries' friendship went back centuries.
"Sri Lanka is very keen to reach an early conclusion to the free trade agreement with China in the near future that would expand more trade avenues for both countries," Marapana said.
"China has been a reliable and important partner in our drive towards economic development and Sri Lanka is appreciative of the country's commitment and assistance," he added, without mentioning any specific projects.
As one of the first countries to help in Sri Lanka's post-war reconstruction after the 2009 end of its 26-year civil war, China's ties with Sri Lanka have unnerved India, traditionally the island nation's most important partner.
By 2014, Chinese navy submarines were also docking in Colombo, raising alarm in New Delhi and prompting a push by the administration of Prime Minister Narendra Modi to claw back influence in the region.
"Sri Lanka is deeply appreciative of China for being a true and trusted friend and ally during our times of need," Marapana said.
(Reuters)