About 100 kg of heroin in 3 machines
Posted by Editor on July 22, 2014 - 8:04 am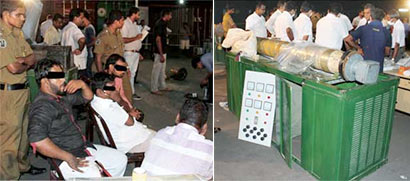 Customs High Risk Unit at Gray Line 1, cargo terminal at Orugodawatta yesterday detected three plastic moulding machines containing about 100 kilos of heroin with a street value of Rs. 700 million.
Four suspects were arrested when they came to clear the consignment.
"We opened the container carrying three machines in front of the four suspects, the importer, two wharf clerk and another involved in clearance," Deputy Director of the unit, U. G. Kulathilake told The Island yesterday.
The Customs had retrieved 31 kilos secreted in one machine by last night and they were in the process of opening the other two.
Kulathilake said there could be as much as 100 kilos of heroin concealed in all three machines. He said the exact amount would be known after a few hours.
The machines had been imported from Pakistan, the Customs said.
The heroin found in the first machine was packed in polythene bags, each weighing one kilo.
Kulathilake said that the main suspect, an importer from Colombo, had brought down the three machines in one container.
The suspect had cleared two consignments containing the same type of machines earlier and it is believed that they, too, may have contained narcotics.
Officers of Police Narcotic Bureau, who arrived there last night, said that they would apprehend the suspects and take the machines into custody.
Superintendent of customs A. N. Galahitiya, Deputy Superintendents Appraiser M. A. U. Dharmaratne and C. P. J. Punchihewa detected the heroin consignment.
(Courtesy: The Island)
Latest Headlines in Sri Lanka