38 Indian fishermen arrested
Posted by Editor on July 22, 2014 - 11:26 am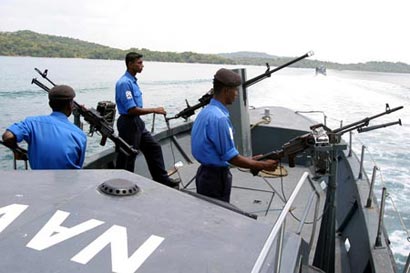 Thirty eight Indian fishermen found poaching in Sri Lankan waters had been arrested by the Sri Lankan Navy in the seas off Talaimannar and Delft Islands in two separate incidents last night, the Navy said.
Nine fishing vessels had also been confiscated.
Navy Spokesman Commander Kosala Warnakulasuriya said that 20 Indians were arrested off the North-Western coast of Talaimannar along with four trawlers and another 18 fishermen were arrested along with five trawlers while they were engaged in fishing off the Delft Islands.
He said the fishermen had violated the International Maritime Boundary Line and were using the illegal method of bottom trawling.
"The fishermen together with their trawlers would be handed over to the fisheries authorities in Talaimannar and Jaffna for legal action," he said.
Indian media quoting the President of the Rameswaram fishermen's association said that all the fishermen went for fishing are from villages in Rameswaram and Pudukottai.
(Daily Mirror)
Latest Headlines in Sri Lanka