Afghan President Karzai to President Rajapaksa: Peace the Best Guarantor of Human Rights
Posted by Editor on March 6, 2014 - 5:44 pm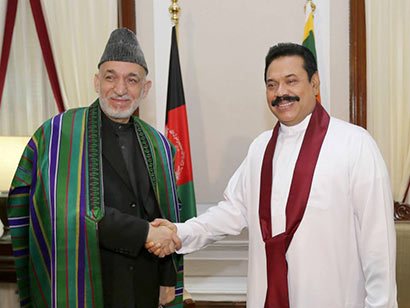 President Mahinda Rajapaksa and Afghanistan President Hamid Karzai held bilateral discussions at the Presidential Secretariat in Colombo this morning, and during the talks, President Karzai commended President Rajapaksa for achieving peace in the country.
"No matter how the world community puts it, we know that peace in a country is the best guarantor of human rights," President Karzai said. "War is the worst enemy of human rights. Peace is the vehicle for human growth and prosperity. We have seen that in Sri Lanka, and we congratulate you."
Following one-on-one discussions, the two leaders joined their delegations for extended talks.
"Our two countries are bound by a common cultural heritage, strong friendship and mutual understanding on a range of issues," President Rajapaksa said. "Your present visit will immensely contribute to further strengthening the bonds of friendship between our two countries."
At the outset, President Karzai thanked President Rajapaksa for the welcome he and his delegation received, pointing out that in all his many international travels in the past several years he has "never had such a warm, colorful and friendly welcome" as he did in Sri Lanka today.
"It is not only a source of joy for me and my delegation, but also a great joy to the Afghan people," President Karzai said.
Acknowledging the challenges Afghanistan is currently facing, President Rajapaksa praised President Karzai's leadership.
"I admire your dynamic leadership of Afghanistan at this critical juncture in your country's history," President Rajapaksa said. "I particularly commend your efforts to establish a durable peace in Afghanistan. I am confident that the Afghan people would meet the on-going challenges successfully, and I wish for the peaceful conclusion of the coming presidential elections."
This state visit is President Karzai's third visit to Sri Lanka, and he spoke about the changes he has seen in the country when compared with his last visit. Citing a long list of Sri Lanka's economic and development indicators that are the highest in South Asia, President Karzai said to President Rajapaksa: "These are remarkable achievements. I commend you for this."
Education was an area that the two delegations discussed for further cooperation. Afghanistan requested from Sri Lanka an opportunity to send students to study at Sri Lankan universities in fields such as medicine, engineering, business and nursing.
"Afghanistan is keen to benefit from opportunities in Sri Lanka for our youth in terms of education and
training," President Karzai said.
Another area Afghanistan was keen on seeking Sri Lanka's assistance was sports, particularly in cricket coaches from Sri Lanka for the Afghanistan's cricket team. The sport has seen tremendous growth in Afghanistan in recent years.
"If Sri Lanka can provide us good coaching to defeat all other countries but Sri Lanka," President Karzai said to President Rajapaksa in a light-hearted moment during the conversation.
Following the bilateral talks, Sri Lanka and Afghanistan signed the following agreements to further
cooperation between the two nations:
1. Memorandum of Understanding for Cooperation in Training of Afghanistan Nurses in Sri Lanka
Signed for Sri Lanka: Mr. Maithripala Sirisena, Minister of Health
Signed for Afghanistan: Ms. Sorayia Dhalil, Minister of Public Health
2. Memorandum of Understanding for Cooperation in the Field of Education
Signed for Sri Lanka: Mr. S.B. Dissayanayke, Minister of Higher Education
Signed for Afghanistan: Dr. Obaidulla Obaid, Minister of Education
3. Agreement on the Employment of Sri Lankan Skilled and Professional Manpower in Afghanistan
Signed for Sri Lanka: Mr. Dilan Perera, Minister of Foreign Employment Promotion and Welfare
Signed for Afghanistan: Ms. Amina Safi Afzali, Minister of Labour, Social Affairs, Martyrs and Disabled
4. Memorandum of Understanding in the Field of Sports
Signed for Sri Lanka: Mr. Mahindananda Aluthgamage, Minister of Sports
Signed for Afghanistan: Ms. Amina Safi Afzali, Minister of Labour, Social Affairs, Martyrs and Disabled
The primary Sri Lankan delegation consisted of the following:
1. Mr. Maithripala Sirisena, Minister of Health
2. Mr. Dullas Alahapperuma, Minister of Youth Affairs and Skills Development
3. Mr. Mahindananda Aluthgamage, Minister of Sports
4. Mr. Jagath Balasuriya, Minister of National Heritage
5. Mr. S.B. Dissayanayke, Minister of Higher Education
6. Mr. Lakshman Yapa Abeywardena, Minister of Investment Promotion
7. Mr. Risad Badhiutheen, Minister of Industry and Commerce
8. Mr. Keheliya Rambukwella, Minister of Mass Media and Information
9. Mr. Dilan Perera, Minister of Foreign Employment Promotion and Welfare
10. Mr. Neomal Perera, Deputy Minister of External Affairs
11. Mr. Lalith Weeratunga, Secretary to the President
12. Dr. P. B. Jayasundera, Secretary to the Treasury
(Courtesy : President Media)
Latest Headlines in Sri Lanka