Alastair Cook ready to quit as England collapse against Sri Lanka
Posted by Editor on June 24, 2014 - 9:28 am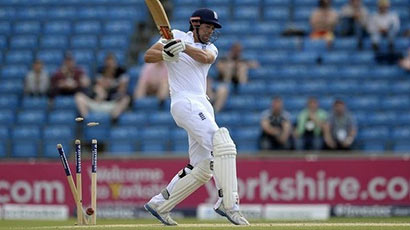 Leeds: Two captains will turn up at Headingley for the final rites to this Test but with two very different futures hanging on the result.
For Sri Lanka's Angelo Mathews, heroic status beckons win, lose or draw, after his 160 became one of the great Test innings seen at this ground. It was his career-best in size as well as scope, a milestone he also achieved here with the ball when his four for 44 scuppered England in their first innings.
For Alastair Cook, an England victory, highly unlikely with the last five wickets needing another 293 runs, would be a minor miracle, though one that would not reflect particularly well on him given the size of Sri Lanka's third-innings score, 457, and the fact that he was out cheaply again, this time for 16.
Defeat, though, would bring him to the brink of resignation with powerful voices being needed to persuade him to stay as captain, despite strong backing from Paul Downton, the managing director of England cricket. Even that may not be enough after the team's abject performance over the past two days aped so many of those suffered during the Ashes whitewash last winter.
His batsmen have saved Cook from humiliation before. England were 90 for four going in to the last day against New Zealand at Auckland 18 months ago. On that occasion Matt Prior rescued them with an unbeaten hundred as he and last man Monty Panesar clung on for the last few overs. Joe Root, still at the crease, also played a substantial innings, which means that two of the vital elements there could still have an effect here.
After a long, hot day watching Mathews burnish his already substantial reputation, England collapsed to 57 for five, an ugly act that looked like the gargoyle on the cathedral spire.
First to succumb was Cook, bowled by Dhammika Prasad off the bottom edge, pulling off the front foot. When on song it is a major scoring shot for him, but it comes with risk, as yesterday's outcome revealed. Worse still, it exposed Gary Ballance, a renowned bad starter, to the swinging ball, something Prasad bowled to perfection to trap him lbw first ball.
For those who felt England were right not to pitch the ball further up than they did, and their team analyst must be among them, Prasad showed the benefits of keeping it full when he had Sam Robson caught at third slip, driving, and clean bowled Ian Bell with one that nipped back sharply.
He was twice on a hat-trick too as he knocked over England's top order with his brisk seam and swing.
But for the Decision Review System, Prasad would have inflicted even more damage. Umpire Billy Bowden, having earlier missed a blatant edge off James Anderson's bowling (after England had used up their reviews), gave both Liam Plunkett and Joe Root out to Prasad. Both were vindicated upon review, though all three reflected badly on Bowden.
As bowling lessons go, it was a sobering one for England's much-vaunted attack. Only Plunkett can take pride, if not in his tame dismissal to Rangana Herath before the close yesterday, then in his match figures of nine for 176. But the other pace bowlers went missing for long periods, unable to summon either the will or the way to take wickets.
Mathews, who batted with the commanding aura of Brian Lara or Vivian Richards, was superb. Unlike Cook at present, captaincy appears to be inspiring him to greater heights. In his nine Tests in charge, he has scored 946 at an average of 78. Given his team were 108 runs behind on first innings, his performance was one of Sri Lanka's greatest. It was not as fine as Graham Gooch's unbeaten 154 here in 1991 against the mighty West Indies, as England's attack is not in that league, but it was in the vicinity.
Although the epitome of cool when he took strike, he did hurl his bat to the ground after Prasad became the third batsman to lose his wicket in quick succession before lunch.
Although dropped on 87 when Plunkett floored a caught-and-bowled chance, Mathews did not change his tactics. His talent for pinching the strike but also finding the boundary, despite the defensive fields, drove England to distraction. Cook's plan was to starve Mathews of the strike and frustrate him into giving up his wicket. A nice idea if it works, but one that only bore fruit when he had 160 and Sri Lanka were 329 runs ahead.
Some believe Cook's stubborn streak makes him fixated with a plan. As further evidence to his paucity of ideas, critics point to his late introduction of Moeen Ali into the attack. In Sri Lanka's first innings, he did not give him a substantial bowl until the 56th over, whereupon the spinner took two wickets. Yesterday, Herath, a left-hander who shared the crucial 149-run partnership with Mathews that floored England, had been at the crease for 90 minutes before Cook brought Moeen on to counter him.
Mooen troubled him immediately, almost having him lbw on 21 and then seeing him dropped by Matt Prior, off bat and pad a few balls later. It was a tough chance but one of nine England have squandered during this match.
Like the England football manager, the England cricket captain receives a disproportionate amount of criticism when things go wrong. But while Cook was let down badly by both his batsmen and bowlers here, he offered little to change either the mood of the match or that of his own players.
When a captain has that little influence over his team, or a match in home conditions, something usually gives.
(The London Telegraph)
Latest Headlines in Sri Lanka