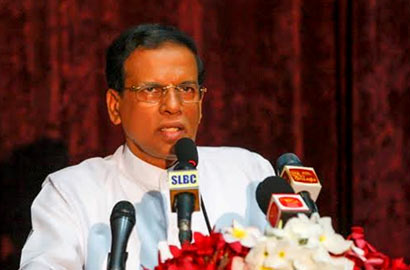 President Maithripala Sirisena stressed that all the people must unite with commitment to face the challenge of creating a drug-free Sri Lanka which destroyed our society for long.
The President pointed out that we must always attempt to do the difficult tasks rather than doing easy undertakings. He further said we must love challenges we have in life.
He made these observations participating as a special guest at the 40th anniversary of the 'Samasta Lanka Amadapya Tharuna Organization of Kotte Naga Viharaya'. The function was held at the Kularatne Hall of the Ananda College.
The President further said that a National Policy will implement to save future generations from this drug menace, adding that, the aim of the Government is to strengthen relevant existing laws regarding drugs.
"Blessings of the Maha Sanga and the assistance of National organizations are expected to succeed the challenge of creating a drug-free Sri Lanka", the President added.
Ven. Maduluwawe Sobitha Thera presented a Memento to President Maithripala Sirisena on this occasion.
(Government News Portal)