Amaraneeya Nayakayek: Gamini Dissanayake – Reminiscences
Posted by Editor on October 26, 2012 - 7:53 am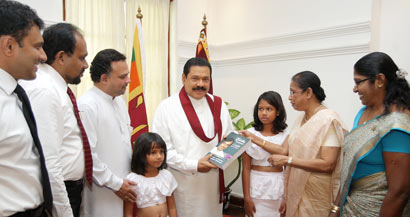 Onlanka News – By Janaka Alahapperuma
(Pix by: Sudath Silva)
The first copy of the book titled Amaraneeya Nayakayek-Gamini Dissanayake Puranavalokanaya (Leader Par Excellence, Gamini Dissanayake – Reminiscences) published to mark the 18th death anniversary of Gamini Dissanayake being presented to President Mahinda Rajapaksa at Temple Trees by Srima Dissanayake and her son State Management Reforms Minister Navin Dissanayake on 25 October (yesterday). Media Centre for National Security Director General Lakshman Hulugalle, Editor of the book Sandhya Priyanthi Palliyaguruge and members of the Dissanayake family were also present.
A separate ceremony was held to launch the book with a collection of articles published in Sinhala, Tamil and English newspapers to date from the day of his death at the Committee Room-B of the Bandaranaike Memorial International Conference Hall (BMICH) same evening under the distinguished patronage of Ashok K. Kantha, High Commissioner of India to Sri Lanka. Ministers Maithripala Sirisena, Basil Rajapaksa, Mahinda Yapa Abeywardena, parliamentarians Karu Jayasuriya, Dayasiri Jayasekera, Gayantha Karunathilaka, large number of distinguished guests, supporters and family members and friends were present at the book launching ceremony. Apart from many UNP politicians, opposition leader and the leader of the UNP Ranil Wickramasinghe and deputy leader Sajith Premadasa were the other notable absentees at the ceremony.
October 23 marked the 18th death anniversary of the charismatic and caring leader and the Presidential candidate, Gamini Dissanayake who was assassinated along with many UNP stalwarts by a LTTE suicide bomber just before the conclusion of a Presidential election campaign meeting at Thotalanga in 1994.
As a young and energetic politician as the people's representative in the Nuwara-Eliya district for 24 years in the parliament since 1970, he extended an yeoman service to all constituents with devotion, commitment and sheer dedication using his typical charismatic approach irrespective of caste, creed and religion regardless of each person's political affiliations.
It would be difficult to find another politician who was so highly acclaimed and held in high esteem by his colleagues and so respected by the opponents particularly due to his impartial attitude. His humility and friendly disposition endeared to him to win a large cross section of friends. He was never engaged in petty diverse and partisan politics. He was ever willing to have sensible debates. He possessed a very clear and a dynamic vision, had no intention in making false and hollow promises.
When the United National Party came into power in 1977, he was entrusted to accept many Ministerial Portfolios, monumental goals and tasks during the tenure of the government. The most gigantic task was of course the historic accelerated Mahaweli Project. The Kotmale reservoir was one among other reservoirs, Victoria, Randenigala, Rantembe, Ulhitiya, Rahkinda and Maduruoya to be built and commissioned under the Mahaweli development programme.
The massive exercise was initially, targeted to be completed within 30 years. However due to the enormous skill, the charismatic approach, dedication and untiring leadership it happened to be completed in an unbelievable short period of just seven years. The Kotmale reservoir was commissioned on 24th August 1985, fulfilling a dream of late Minister Gamini Dissanayake.
As a gesture of national gratitude the Kotmale Reservoir was appropriately renamed as the "Gamini Dissanayake Reservoir" by unveiling his statue at a glittering ceremony presided by the then Prime Minister Ranil Wickremesinghe on 11th April 2003.
His tragic death shattered all hopes of UNP. The loss was irreparable to the whole nation, as during his tenure of 24 years in active politics he had achieved a more than a lifetime's worth of milestones, goals and accomplishments.
Latest Headlines in Sri Lanka