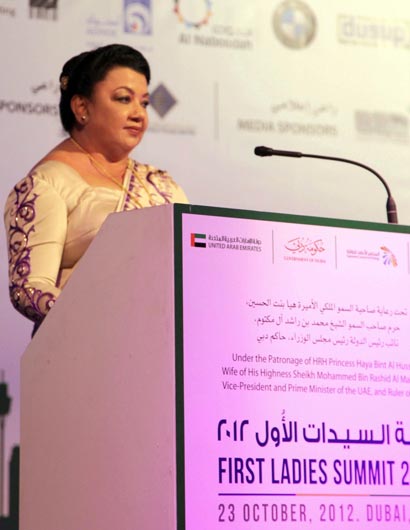 Onlanka News – By Janaka Alahapperuma
(Pix by:Lalith Welivitigoda)
Sri Lanka's First Lady Shiranthi Rajapaksa said that women should take the lead in conserving energy for the future generation to make sustainable development a reality. "As women we should make a vital contribution to protect energy on behalf of the sustainable development for the posterity". She made these remarks while addressing the World's First Ladies Conference at the Dubai International Exhibition and Convention Hall which was held under the patronage of Chairman of the World Energy Forum Dr. Harold Hyunsuk Oh.
Mrs. Rajapaksa said that women can discharge a significant service to safeguard the future generation from the energy crisis. She further emphasised that all women should unite in this respect. Women and development are two important forces that could not be separated.
Delivering the keynote speech, Royal Princess Haya Bint Al Hussein of the United Arab Emirates highlighted energy and water issues as they relate to women, empowerment and advancement of women, and women's role in sustainable development at the conference.
First Lady Rajapaksa expressed her gratitude to the United Arab Emirates for taking the lead on behalf of the posterity, organizing such forums. Representatives of the World Energy Forum, the World Health Organization and the United Nations joined in this conference as observers.
The First Ladies Summit was organized on the sidelines of the World Energy Forum held at the same venue from October 22-24. The meeting drew attention to crafting an international constitution and policies for energy conservation. The United Nations has declared 2012 as the International Sustainable Energy Year.
Pictures are seen here First Lady Shiranthi Rajapaksa is addressing the summit and in a friendly conversation with Royal Princess Haya Bint Al Hussein of the United Arab Emirates.