ANGELINA JOLIE SEEKING ADVICE OF BUDDHIST MONK TO FIX WEDDING TIME
Posted by Editor on June 5, 2012 - 4:54 pm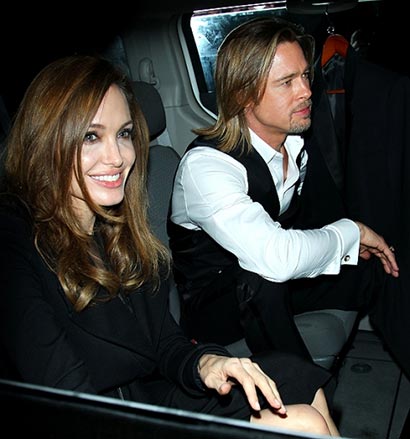 Onlanka News – By Walter Jayawardhana
Angelina Jolie, one of the most successful women in Hollywood is seeking the advice of astrology of an Asian Buddhist monk to fix a good time for her marriage to Brad Pitt, the National Enquirer reported.
The weekly in its June 4 issue said Jolie is very keen in letting the Cambodian Buddhist monk choose an auspicious time for Brad and Julie to tie the knot to their already successful relationship.
The report said Angie 37 is consulting a monk at the Wat Khmer Buddhist Temple in Los Angeles sourcing it to unnamed ones and revealed that's the real reason why Brad 48 recently said they have not set the date.
The June 4 issue of the National Enquirer said Angie has used astrology as practiced by the Buddhists in the past to help her pick the best or the most auspicious for important moments in her life sourcing it to unnamed people.
In many South and South Asian countries Buddhists consult their temples for auspicious times although astrology is not part of Buddhism. Buddhist monks in their learning institutions    and temples by their seniors are taught astrology as there is a demand. Weddings never take place without an auspicious time.
The National Enquirer said Angelina Jolie has relied on the Buddhist calendar to plan medical procedures and vacations for herself , Brad and the kids, She has even used it for her movie openings.
"The Oscar winning beauty became convinced that dates matter when she learned after the facts the day and time she married her two exes actors John Lee Miller and Billy Bob Thornton would end in disaster according to the Buddhist calendar."
That's when Angie was fully converted to the astrology practiced by the Buddhists and she is not taking that chance with Brad the Enquirer said.
"Angie is convinced the date of the union will guarantee the future happiness."
The mother of six has taken adopted sons Maddox (10) and Pax (8) to the Los Angeles temple but the monk also visits the family home to study the horoscopes and determine the wedding date.
"Brad just goes with the flow added the source. He told Angie to take as much time as she needs. After 8 years and six kids they clearly are not rushing into marriage."
Latest Headlines in Sri Lanka