Colleague paid Rs.1.5 mn by LTTE to help kill Muthalif
Posted by Editor on June 6, 2012 - 9:51 am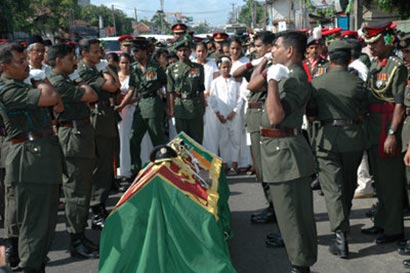 A chance recovery of a barrel containing secret LTTE papers, buried in the Vanni east, has led to the arrest of a security forces officer allegedly involved in the assassination of Lt. Col. T. N. Muthalif in May 2005 in Colombo, The Island learns.
The LTTE ambushed Muthalif near the Kirulapone colour lights as he was on his way to the Kotelawela Defence University, Ratmalana.
Authoritative military sources told The Island that the suspect had been detained on the basis of LTTE papers, which dealt with special operations conducted by them. Responding to a query, sources said that the suspect had received Rs. 1.5 mn from the LTTE to facilitate the attack. They described the recovery as one of the most important intelligence finds since the conclusion of the conflict in May 2009.
Sources said the LTTE had promised the suspect an additional Rs. 1.5 mn if he could facilitate an attack on Maj. Gen. Kapila Hendavitharna responsible for intelligence operations. Sources identified the targeted officer as the one of those deeply involved in covert operations, including controversial raids conducted by the Deep Penetration Unit under the aegis of the Directorate of Military Intelligence (DMI) during 2001.
The DMI is conducting further investigations.
Another intelligence source revealed that the LTTE documents had been wrapped in polythene and placed in the barrel found buried in the area, the scene of the final phase of operations. The official asserted that the LTTE had buried the documents as it believed the government would be compelled to suspend the offensive due to external pressure and it could retrieve the documents later.
Courtesy: The Island
Latest Headlines in Sri Lanka