Another boatload of Lankan asylum seekers to be offloaded at Christmas Island
Posted by Editor on July 2, 2012 - 8:24 am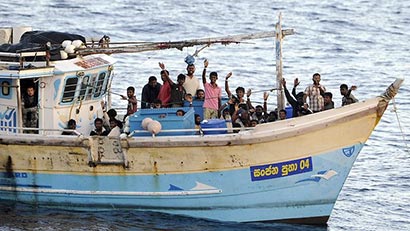 Christmas Island is today preparing to offload yet more asylum seekers who arrived by boat overnight, most likely from Sri Lanka. The small ramshackled fishing vessel carrying the 39 mainly male asylum seekers is currently sitting not far from shore at Christmas Island's cove, with around five Navy officers on board.
The men waved and smiled this morning as they sat and stood on their rickety boat while being watched by the Navy.
Their boat was intercepted overnight west of Christmas Island by HMAS Maitland and was moored in the cove last night.
Preparations are currently underway to bring the passengers to shore where they will then be transferred to one of the overflowing detention facilities on the island.
The boat is the latest in a recent influx which saw four boats intercepted or offloaded in about 24 hours from last Thursday night. Yesterday another boat carrying Sri Lankan men was also intercepted and the 53 passengers were brought to Flying Fish Cove.
Yesterday also saw the arrival of 67 Sri Lankans at Christmas Island's airport after they were flown from Cocos Islands where they landed last Friday.
Passengers from another boat carrying 41 people, whose identities are unknown, are also on their way to the island after being intercepted on Friday at the Ashmore Islands.
A Sri Lankan man on board an asylum boat last week is suspected to have chicken pox, prompting a health warning to the large variety of staff who deal with asylum seekers when they reach the island.
The workers have been advised to seek treatment at the island's hospital if they develop a rash or itch.
The Department of Immigration and Citizenship said they were "closely monitoring the situation" and had arrangements in place including isolation accommodation if necessary, Courier Mail reports.
Latest Headlines in Sri Lanka