Another NGO project to tarnish Sri Lankas image – President
Posted by Editor on March 14, 2014 - 8:05 am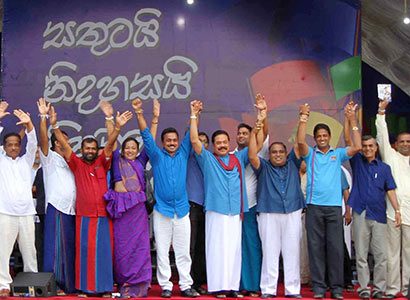 President Mahinda Rajapaksa has alleged that those seeking to destabilise the country were now accusing the government of causing religious tensions.
Addressing an UPFA propaganda rally at Galle on Wednesday, President Rajapaksa said that it was the latest NGO project directed against Sri Lanka during the ongoing sessions of the United Nations Human Rights Council (UNHRC) in Geneva.
The President stressed that there was absolutely no basis for allegations that religious minorities were being targeted in the post-war era. The war, the President said had been waged against the LTTE not the Tamil speaking people, the majority of whom were living outside the Northern and Eastern Provinces.
The President who is also the SLFP leader was responding to a report commissioned by the South Asia Policy and Research Institute (SAPRI) that dealt with what former President Chandrika Kumaratunga alleged was government backed campaign against Hindu, Muslim and Christian religious places of worship. CBK lambasted the government for turning a blind eye to what was going on in the country, after having met UNP National Leader Ranil Wickremesinghe at the Opposition Leader's Office in Colombo.
Turning towards Buddhist, Hindu and Catholic priests on the stage as well as followers of all religions at the rally, he said the make-up there itself showed that there was no basis for what those trying to cause trouble for the country were propagating.
The SAPRI inaugurated its project on January 28, 2014 at a political event held at the Sri Lanka Foundation Institute (SLFI). Among those present on the occasion were Ms. Kumaratunga, Tamil National Alliance (TNA) leader R. Sampanthan and Deputy Indian High Commissioner, P. Kumaran.
Ms. Kumaratunga earned the wrath of UPFA constituent, the Jathika Hela Urumaya (JHU) as well as Bodu Bala Sena for spearheading the SAPRI attack on the government of Sri Lanka. Both JHU and BBS yesterday addressed the media regarding the unsubstantiated allegations directed against the country. They pointed out that Mrs. Kumaratunga launched the SAPRI report in the wake of UPFA constituent, the SLMC alleging systematic attacks on Muslims. They pointed out that the SLMC leader, Rauff Hakeem went to the extent of calling for UNHRC intervention to save Muslims.
The BBS alleged that both Minister Hakeem and Ms. Kumaratunga were following an agenda extremely inimical to national interest.
JHU spokesperson Nishantha Sri Warnasinghe, who is contesting the forthcoming Western Provincial Council on the UPFA ticket, said that anti-Sri Lankan elements shouldn't be allowed to undermine the country especially at a time a section of the international community was working overtime to destabilize the country.
National Freedom Front (NFF) leader Wimal Weerawansa, MP, too, alleged that Minister Hakeem had collaborated with those bent on subverting the country. The NFF leader said that the SLMC leader had obviously contributed to the UNHRC Chief Navi Pillay's damaging report meant to justify international war crimes investigation over accountability issues. (The Island)
Latest Headlines in Sri Lanka