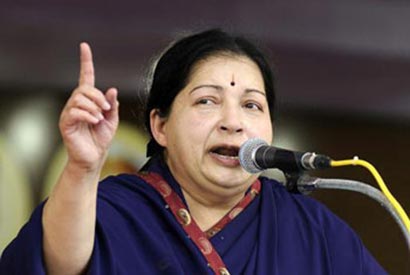 Tamil Nadu Chief Minister Jayalalithaa declared here on Thursday that the next round of talks between the fishermen of Tamil Nadu and Sri Lanka would be held only after all the fishermen from Tamil Nadu and their boats were released by the Sri Lankan Government. (The second round of talks scheduled for Thursday was called off.)
Out of 177 apprehended fishermen and 44 confiscated boats, Sri Lanka had released116 fishermen and 26 boats, she said at an election meeting at Kangeyam.
Sri Lanka meanwhile confirmed that the talks would be held on March 25. "The Indian side made a request for March 18, but since I had already scheduled my election campaign around that time, we suggested March 25 and they [Indian Government] has agreed," Sri Lankan Fisheries Minister Rajitha Senaratne told The Hindu on Thursday.
Two if Sri Lanka's provinces – Western and Southern – will go to polls on March 29. Sri Lanka is in the process of releasing all Indian fishermen in its custody, along with their boats, Minister Senaratne said. "The Indian Government, too, has begun releasing our fishermen who were arrested there."
In New Delhi, Indian MEA spokesperson Syed Akbaruddin tweeted on Thursday evening: "All fishermen & boats being released as goodwill measure prior to next round of Fishermen's Association discussions between India and Sri Lanka." (The Hindu)