Anti-Muslim Riots a heavy blow to tourism, economy: Ranil
Posted by Editor on March 11, 2018 - 8:40 am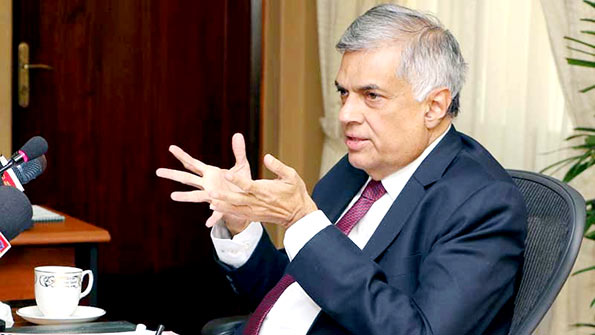 The latest wave of anti-Muslim riots that triggered curfews and a nation-wide state of emergency has damaged Sri Lanka's international image and was a major blow to the economy, Prime Minister Ranil Wickremesinghe said.
Sri Lanka's hopes of emerging a tourism hotspot in South Asia were also dented by the riots which left three people dead, about 20 injured and at least 200 Muslim-owned businesses and homes in ruins. Eleven mosques were damaged or destroyed.
"The work of a handful of saboteurs has caused a heavy blow to the country both economically and socially," the Prime Minister said in a statement on Thursday, two days after President Maithripala Sirisena declared a state of emergency.
The riots could not have come at a more embarrassing time for Prime Minister Wickremesinghe who had addressed an investor forum just three days earlier in Singapore to woo more foreign investments into the island.
Addressing the "Invest Sri Lanka" event in Singapore, Wickremesinghe spoke of fiscal consolidation, economic reforms and above all political and social stability for business to thrive.
But, as he returned to the island, the central district of Kandy was up in flames.
Police have been blamed for being slow to nip the riots in the bud. However, Wickremesinghe himself had taken over the subject of the police in a cabinet reshuffle of February 25 until a full minister could be agreed upon.
Wickremesinghe's party had proposed Field Marshall Sarath Fonseka to handle the ministry of Law and Order, but reportedly he was not acceptable to the President.
Soon after the government imposed the emergency across the country and ordered troops to enforce a curfew in the Kandy district, foreign governments issued travel warnings to their citizens planning to visit Sri Lanka.
The authorities also urged holidaymakers to avoid the hill resort, which is also home to Sri Lanka's holiest Buddhist shrine, the Temple of the Tooth Relic.
Thousands of foreigners were already in Kandy when the troubles erupted and the images of Muslim businesses being torched and police firing teargas had dented Sri Lanka's hard-fought efforts to rebrand after decades of ethnic war.
Curfews in Kandy — which attracts millions of tourists and pilgrims every year — had "greatly inconvenienced" visitors to the central hill district, Wickremesinghe added.
The Kandy riots, and isolated incidents of arson and vandalism in other parts of Sri Lanka, coincide with the island hosting a tri-nation cricket series against India and Bangladesh.
The tournament began Tuesday in Colombo, 115 kilometres (72 miles) from Kandy, but authorities were taking no chances with 1,000 police deployed to protect the visiting teams and spectators.
Tourism has emerged as a key earner for the island in the aftermath of the war, which cost more than 100,000 civilian lives before its bloody close in May 2009 after 37 years of fighting.
Visitor arrivals have increased steadily since then, with Sri Lanka attracting more than 2.1 million tourists and $3.2 billion in foreign exchange last year alone.
Just half a million tourists ventured to Sri Lanka in 2009 when the war ended — roughly the same number who visited in country in the first two months of this year, show the latest figures from the island's tourism board.
The chief custodian of the Temple of the Tooth Relic in Kandy, Nilanga Dela  said visitor numbers had increased Thursday as a daytime curfew imposed to maintain order was lifted.
Hotel operators in Kandy said they suffered a spate of cancellations with occupancy dropping from about 80 percent to 30 percent during the week.
(Source: The Island)
Latest Headlines in Sri Lanka