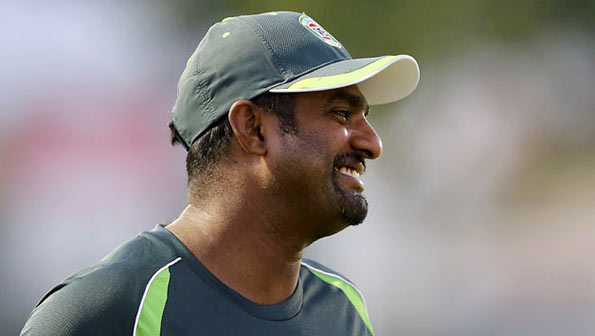 Muttiah Muralidharan doesn't wish to read much into Arjuna Ranatunga's demand for a probe into Sri Lanka's 2011 World Cup final loss to India at the Wankhede.
Sri Lanka's only 50-over World Cup-winning captain recently said he had been shocked by their six-wicket defeat in the final. "I was also in India doing commentary at the time. When we lost, I was distressed and I had a doubt," Ranatunga was quoted as saying.
"We must investigate what happened to Sri Lanka in the 2011 World Cup final… I cannot reveal everything now, but one day I will. There must be an inquiry."
Ranatunga's comments had fuelled speculation about match-fixing and there were calls for a probe into the entire episode in Sri Lanka.
Murali, a member of the Sri Lanka team that played in the 2011 final, feels such claims should be backed by adequate evidence.
"I don't think it was fixed…Arjuna didn't say the final was fixed… He is suspicious… People are exaggerating on what he said… There has to be evidence," Murali, who is in the city for the Vision 2020 camp, said on Thursday.
Sri Lanka, batting first, scored 274 for six off 50 overs and appeared in a commanding position when India were reduced to 31 for two. But Gautam Gambhir (97) and Mahendra Singh Dhoni (91 not out) turned things around for India.
On a different note, Murali felt Sri Lanka are going through a transition which has been laid bare in their lack of match-winners. That has been largely responsible for their poor performance in the recent past.
"There's definitely a lack of match-winners… We lost to Zimbabwe in a one-day series for the first time at home. That means we are not performing well," Murali said.
"We have the talent. But at the moment, the youngsters are not performing up to expectations after the retirement of a lot of seniors… Also, too many players are playing and constant chopping and changing is not doing the team any good."
Murali agreed that the Indians will have a better chance of winning the series this time unlike the previous years. "Yeah, the scenario is a bit different this time… India have a better opportunity."
Having achieved lot of success in Galle, Murali is well aware of the wicket there. "The wicket in Galle is good for batting on the first two days, then it starts to spin… So, the side who bats first have a better chance of winning," Murali said.
The highest wicket-taker in Test and ODI cricket rates Ravichandran Ashwin, who is playing his 50th Test in Galle, highly.
"Ashwin's a very good bowler and he will do well on this wicket. Also, they have (Ravindra) Jadeja as the spinner… Third, fourth and fifth day onwards, spinners will play a vital role in this Test."
Sri Lanka's stand-in captain Rangana Herath finished with 1/159 in the first innings, but Murali credited the Indian batsmen for tackling the left-armer really well. "The wicket didn't help much and India batted well on the first two days."
Murali is confident Bengal players have a bright future having seen them closely for more than a year now. "There are good spinners, pacers and batsmen. They are improving… They performed well last year and this year too we are aiming to continue in the same vein.
"We are all trying to get them in better shape for the coming season," Murali said.
Murali, along with VVS Laxman and TA Sekar, have also worked with the players at a camp in Bangalore earlier this month. He's aware that the wickets during the last Ranji Trophy season mainly favoured pacers, but that's hardly anything to complain about as far as the spinners are concerned.
"The captain will decide on the game plan… A captain won't bowl a spinner on a fast wicket because he will tend to depend more on the pacers. Nevertheless, the bowlers are doing well. We have to remember that everyone can't play and they have to wait for the opportunities."
Murali felt Bengal won't miss Pragyan Ojha if the former India left-arm spinner eventually turns out for Hyderabad this season. "We've got Pradipta Pramanik, Anurag Tiwary… There are lot of spinners, they will do well," Murali assured.
(The Telegraph)