'Army has nothing to do with AAVA Group'
Posted by Editor on November 5, 2016 - 8:38 am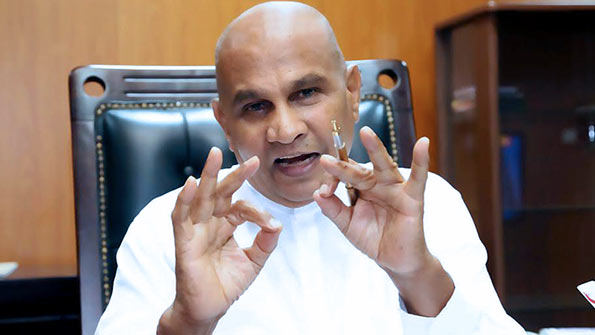 Northern Province Governor Reginald Cooray yesterday refuted claims that the Army was behind the AAVA Group in the North.
Responding to a question by a journalist at a press conference at his Office in Battaramulla, the Governor said as of the information he has received, it was clear the Army was not behind the AAVA Group.
Asked about the comment by Co-Cabinet Spokesman Minister Dr Rajitha Senaratne that AAGA group was formed with the assistance of former Defence Secretary Gotabhaya Rajapaksa and certain military officers, the Governor said the Minister before going public with that comment should have communicated any such information he has with relevant authorities.
"Rather than saying it to the media, it is better if the minister had communicated it first to the Cabinet, State Defence Minister, Defence Secretary, President or the Prime Minister.
"I do not know the veracity of his statement. It is upto the military intelligence to probe. The President has now deployed a special team to probe in to these groups," he said.
"I cannot either endorse or deny what the Minister said. I cannot walk around the streets at night to verify those claims," he said.
He said some people who met him in Jaffna urged him to take steps to control the activities of AAVA group, adding that therefore he gave the direction to the Police to control AAVA group. "Police acted with restraint over the past days, because we could clearly see there were certain provocations," he said.
The Governor analyzed the rise of crimes in the North could be related to the drug menace and addiction to liqour which are at high rates in the Jaffna peninsula. "This could be a result of high unemployment rate among youth coupled with their addition to Kerala Ganja", he remarked.
"The number of bars and taverns in the North is very high. In Jaffna town alone there are nearly 50 taverns. The criminal activities are often associated with drug and liqour use. Some leaders try to give the impression that the Government is promoting them intentionally to destroy Jaffna youth, which is very wrong. The Government along cannot control these menaces. The support of regional communities are a must for that," he commented.
(Source: Daily News – By Disna Mudalige)
Latest Headlines in Sri Lanka