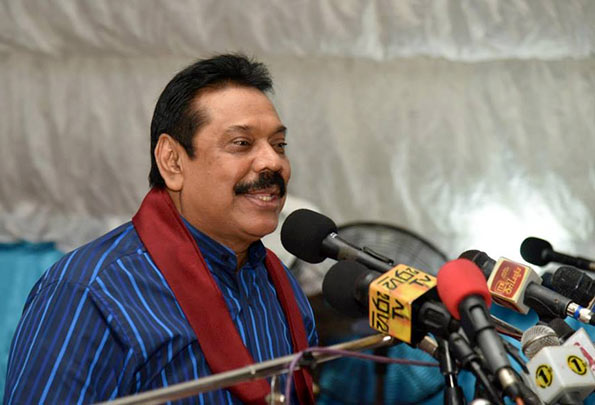 Former President and Kurunegala District MP Mahinda Rajapaksa has said that the ruling UNP-SLFP coalition leaders including President Maithripala Sirisena and Prime Minister Ranil Wickremesinghe should take the responsibility for Central Bank bond scams.
Rajapaksa says action should be taken against all those accused of mega fraud running into billions of rupees. The Criminal Investigations Department (CID) and the Financial Crimes Investigating Division (FCID) will not investigate members of thecurrent administration.
Addressing a gathering at UPFA MP Prasanna Ranatunga's Udugampola residence, the former President vehemently denied government accusations that former Defence Secretary Gotabhaya Rajapaksa had created the Aava group now causing mayhem in the Jaffna peninsula. "We are being accused of creating Aava group. Some members of the government propagate lies. We have never done anything inimical to the national interest", ex-President Rajapaksa insisted.
The former President alleged that the government had been propagating lies to deceive the people and also to cover up its repeated failures. "Less than two years after the last presidential polls, the country is in chaos and experiencing political turmoil."
Comparing the situation in the Northern region now and during his administration, the former President said that normalcy was restored during his time. The then government created an environment conducive for all communities to live in harmony, Rajapaksa said, alleging that the yahapalana government had undermined security. The former President expressed concern about the Sinhalese not being able to visit the Northern region in case the government allowed further deterioration of the security situation there.
The former President said Tamil speaking people had now realised that they blundered by being party to a foreign conspiracy to topple his administration. Alleging that the government was in the process of introducing a new Constitution to appease those who had been promoting separatist sentiments, the former President stressed the need for defeating that attempt.
The former President alleged that some of those who had entered parliament through the UPFA National List were engaged in mud slinging campaign at the behest of the new leadership. Rajapaksa also condemned President Sirisena for appointing UNP leader Ranil Wickremesinghe as the Prime Minister at the expense of D. M. Jayaratne soon after the last presidential polls. The President said he was not responsible for causing a split in the party.
MP Ranatunga said that the electorate was awaiting an opportunity to rectify the unpardonable mistake of ending the Rajapaksa rule. The MP said that people had been deceived by yahapalana leaders to engineer the former President's defeat. The Mahinda loyalist alleged that those who had been rejected by the electorate but entered parliament through the National List were working overtime to undermine the group with the former President.
(Source: The Island – By Shamindra Ferdinando)