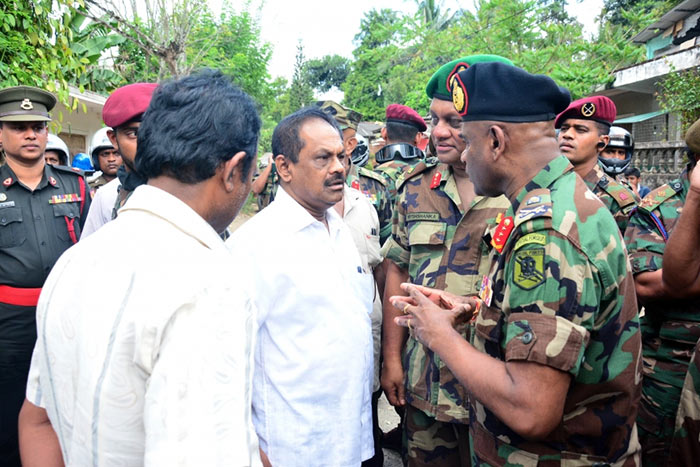 As normalcy was returning fast, Lieutenant General Mahesh Senanayake, Commander of the Army went to trouble-torn Kandy yesterday morning (8) and took stock of developments taking place in the aftermath of violence that sparked off in the general areas of Digana, Galaha, Katugastota, Menikhinna, Ambetenna, Akurana, Poojapitiya and a few other affected areas.
At the outset, he paid obeisance to the Maha Nayake Thero of Malwatta Chapter and met State Minister of Defence Hon Ruwan Wijeywardene who had arrived there by them before he met the Governor for Central Province, Chief Minister, Commander, Security Forces – Central, General Officer Commanding, 11 Division, senior Navy and Air Force Officers and a cross section of civil administrators and Moulavis in the upcountry.
In a separate meeting at Pallekele 11 Division Headquarters of the Security Force Headquarters – Central (SFHQ-C), the visiting Commander of the Army received a comprehensive briefing about the spate of incidents that led to ethnic tension and the subsequent acts of violence. He underlined the importance of maintaining security surveillance in affected areas with the participation of tri-service personnel and supporting the Police for restoration of normalcy as early as possible. He also made inquiries from both Major General Rukmal Dias, Commander, SF-C and Major General Nissanka Ranawana, General Officer Commanding, 11 Division as regards the deployment of troops in vulnerable areas and precautionary measures that have been adopted.
Afterwards, he also had separate meetings with the Governor for Central Province and the Chief Minister Mr Sarath Ekanayake before he called at the central Mosque (Maha Palliya) in the heart of Kandy where a large gathering of Islamic Moulavis and Muslims had assembled with a view to hearing from the Commander of the Army.
More than 15 Chief Moulavis during the interaction with the visiting Commander of the Army expressed their concerns on prevailing developments in respective areas and the need to strengthen the security of people further. They also insisted the continued presence of Army personnel in their areas for safety of property and their lives.
Lieutenant General Mahesh Senanayake after a patient hearing assured Muslim religious and community leaders that he would do everything possible to provide full security to the mosques and villages where the Muslim communities are resident as the normalcy was fast returning to trouble-tone areas.
"Army troops would ensure the safety of all civilians and property and do everything possible to bring normalcy to affected areas as early as possible. Army troops will not vacate those areas until normalcy is returned and security guaranteed for all ethnic groups. Nor would the Army allow anyone to cause any damage to mosques or temples. I assure you the best of protection since it is the duty of the Army to maintain peace in the country and guarantee the safety of the Sinhalese, Tamils or Muslims. A minor incident has flared up to be a big one. All ethnic groups have peacefully lived in this country for generations and co-existed on a sound footing, amid spirits of brotherhood and understanding. We should understand that our mutual bonds of friendship and co-existence should not be disturbed due to anti social acts of a handful of miscreants," the Commander stressed.
"It is unfortunate to find some outside elements who had come to Senkadagala have created this situation. Senkadagala has a population of high dignity and innocence and they would not resort to such actions," the Commander had quipped.
During his meeting with the Governor, the Commander of the Army referring to a Presidential directive in this connection, told the Governor that the Army would be able to complete the reconstruction work of those damaged buildings before Vesak in late April, the earliest.
During his stay in Kandy, the Commander visited a school where displaced civilians remain housed on a temporary basis at Veheratenna. Lieutenant General Senanayake spoke to them and shared a couple of views with them before he continued his visits to affected areas such as Akurana, Ambetenna, Poojapitiya, Digana, Kundasale and Teldeniya.
(Government News Portal)