Asian Championship medalist Sachith quits in disgust
Posted by Editor on September 7, 2013 - 10:59 am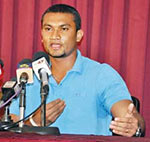 National javelin record holder and Asian Athletics Championship silver medalist Sachith Maduranga said yesterday that he was quitting athletics due to many dissapointments.
He cited the lack of recognition for international achievements and lack of foresight in steering local sports among the reasons for his premature retirement, at the age of 23.
Addressing a group of reporters at a hastily arranged media conference at Hotel Nippon, Maduranga said that he was not going to point fingers at anybody, but only to announce that he is quitting athletics, for his own good.
He said that he wants the reasons of his retirement be known for it to be meaningful and for the authorities to implement corrective measures to keep prospective athletes interested in sports. He said that he made the decision with a heavy heart, but will not regret or change his decision.
"I faced many problems, but I faced them with a lot of courage and as a result, I was able to win a silver medal at the Asian Athletics Championship (Pune 2013). I think that the Asian level is the highest level any Sri Lankan athlete could reach, apart from the Olympics. Even after winning an Asian medal, I did not get any recognition or favoured treatment. I had to take a difficult decision whether to sacrifice my future for athletics or I should go on a different path to succeed in life," said Maduranga, who improved on the national record four times during the last two years.
Just months after establishing a national record, Sachith was dropped from the National pool for not taking part in a compulsory meet, due to an illness last year. He nearly gave up athletics then. However, after being persuaded by athletics authorities, Maduranga made a dramatic return with a new national record and was soon drafted into the national pool. But since January, he has not received any funding.
He said that he has high regards for his employer, the Sri Lanka Army, but regretted that he cannot even cover his fuel expenses with the meagre salary he receives.
"As far as my future is concerned, I will not like to look forward to groping in the dark. There are no targets for athletes and no motivation to go for the target. There are no allowances for athletes. There is no proper coordination between sports organisations. When compared to other countries, the future looks bleak for Sri Lanka athletics."
He was asked whether the recent decision by sports officials to award a car to a lowly Sri Lanka record in the women's pole vault had any bearing on his retirement. "I can't comprehend the reasoning behind that decision," said Maduranga.
Meanwhile, he thanked his coach A.J. Rodrigo for fatherly guidance and current officials of the AASL for providing him with a valuable exposure in Finland, where he attended training at an IAAF training centre for close to a month before the Asian Championship.
Maduranga learnt his ABC of athletics from the late Sudinna Pathirana at Ananda College and came under the guidance of A. J. Rodriog after his (Pathirana's) demise. He improved on the national record four times and his current record mark of 79.62 was achieved in Pune, India, where he won Sri Lanka a silver medal. He missed winning the gold by a mere 14 centimetres.
According to experts, a javelin thrower reaches his peak in his late twenties or early 30s.
His premature retirement is a severe blow to the country's men's javelin, where he excelled, compared to all others.
(Courtesy: The Island)
Latest Headlines in Sri Lanka