Asoka Thilakaratne case: Transport of bank vault millions: CID seizes auctioned Army Defender
Posted by Editor on March 3, 2010 - 2:24 am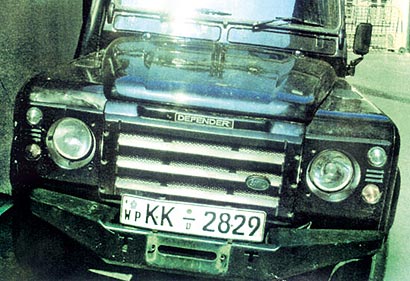 The Criminal Investigations Department (CID) conducting investigations into the recovery of Rs 75 million made up of several foreign currency denominations found in four vaults at a private bank belonging to Asoka Thilakaratne, had taken into custody a black Defender Jeep which is alleged to have brought the money to the bank.
Asoka Thilakaratne is the mother of Danuna Thilakaratne, son-in-law of General Sarath Fonseka.
According to the investigators the black Defender had been purchased by Danuna Thilakaratne under the name of one of his close friends from an Army auction on February 14, 2008.
General Sarath Fonseka had been the Army Commander at the time he purchased the black Defender. A special CID team is conducting investigations to ascertain how the black Defender was purchased from the Army auction by Danuna.
Earlier, Mount Lavinia Chief Magistrate and Additional District Judge Harsha Wijetunga granted bail in a Rs 20 million bond with four sureties to Asoka Thilakaratne, mother of Danuna Thilakaratne, when she was produced before court by the Criminal Investigations Department in connection with the discovery of the Rs 75 million.
On an application by the CID the Judge directed the Manager of the private bank to assist the CID in their ongoing investigations by providing them with the required information.
Mohan Masimbula who appeared for the CID filing a report in court said that they are conducting investigations into the cash recovered from four vaults in a private bank under the Exchange Control Act and whether this money had been used for terrorist activities.
Answering the Judge, Inspector Masimbula said that the money recovered from the four vaults (Rs 75 million) comprising US Dollars 527,000, Sterling Pounds 100 and cash Rs. 15 million, is being kept in the same vault at the bank.
The CID told court that they are conducting investigations in connection with several forged documents relevant to the cash found in four vaults. According to the investigations the money recovered from the four vaults is the balance money used for the election campaign of General Sarath Fonseka.
Source: Daily News – By Sarath MALALASEKERA
Latest Headlines in Sri Lanka