AT FONSEKA VISIT MAHANAYAKA THERO SAYS RULERS MUST FOLLOW DASARAJA DHARMA
Posted by Editor on May 27, 2012 - 6:11 pm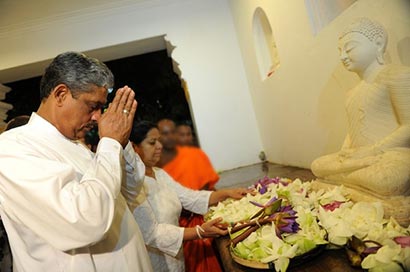 Onlanka News – By Walter Jayawardhana
As a strong message to the politicians who govern the country, the most venerable Agga Maha Panditha   the Supreme Maha Nayaka of the Sri Lanka Amarapura Sangha Sabha  Dauldena Gnanissara said that  "Dasa Raja Dharma" should be practiced by rulers when the former Army Commander Sarath Fonseka visited him for blessings.
The ten virtues that should be practiced, called Dasa Raja Dharma, the most supreme patriarch advised  the rulers to follow among others include  freedom from illwill, enimity, envy and bearing no grudge called "Akkodhaa" and non opposition and non confrontation called "avirodha."
The most venerable Dauldena Gnanissara said so when the former Army Commander sought his blessings at Vidya Wijayarama temple at Pagoda , Nugegoda .
In response former commander of  the army said he will very doggedly follow the Dasa Raja Dharma the venerable Maha Nayaka advised. He also  jokingly said, "I did not even get the ten cents wages a prisoner convicted for rigourous imprisonment ought to get from the government." He has been also deprived of his pension for his 40 years military services.
Generosity (dana), a high moral character (sila), sacrifice (pariccaga), freedom from fear or favaour, ( ajjava). Kindness (maddava), austerity in habits (tapa) , non violence (avihimsa) and patience and tolerance (Khanti) are the other seven principles of the Dasa Raja Dharma.
When a reporter pointed out that Minister Laxman Yapa Abeywardena had pointed out that the light from the lamp Fonseka lights could fall helping the government too the former commnder retorted back by saying in the past the government definitely benefitted from his light. In the future the light I light for the country and the people may help the government too. If there is anybody in the government who like the light could very well may also join me , he said
Latest Headlines in Sri Lanka