ATM fraud: Rumanian mastermind arrested
Posted by Editor on February 14, 2011 - 9:25 am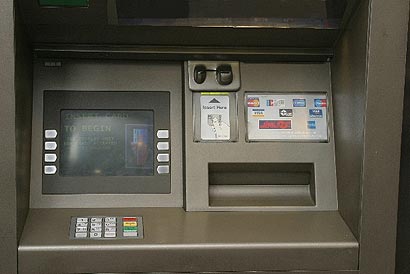 The Rumanian who is believed to be the mastermind behind the illegal withdrawal of millions of rupees from Automatic Teller Machines by forging ATM cards (with the help of two Sri Lankans) was apprehended by the Criminal Investigation Department at the Bandaranaike International Airport on Saturday night, sources said. The suspect, who is believed to have withdrawn millions of rupees using forged ATM cards, is reportedly the leader of underworld gang based in an East Asian country. Some days ago he had left Sri Lanka for Italy. However, the Counterfeit Currency Investigation Unit of the CID had received information that the suspect would be returning to Sri Lanka on Saturday night. Officers attached to the unit had lain in wait at the airport and apprehended him.
The suspect was arrested following information received by the CID, a top official said.
Two Sri Lankans were arrested few months ago with 75 forged credit cards, 25,000 Euros and Rs. 382,000.
Earlier reports said that the suspects had withdrawn money after obtaining customer information using advanced electronic devices fixed on the ATM machines.
The suspects had fixed the advanced electronic devices which were able to copy customer information from unsuspecting ATM users.
They had then passed this information on to their accomplices in Italy who had used forged ATM cards and withdrawn money from Sri Lankan accounts.
Courtesy: DM Online
Latest Headlines in Sri Lanka