Australia pledges fullest support for Sri Lanka CHOGM
Posted by Editor on June 20, 2013 - 8:43 am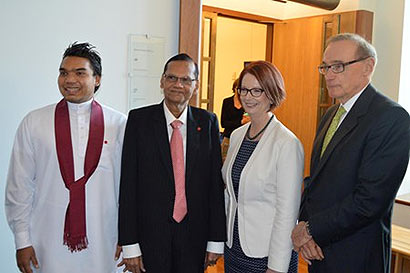 Prime Minister  Julia Gillard of Australia told External Affairs Minister Professor G.L. Peiris that she is looking forward to attending the Commonwealth Summit in Sri Lanka, and that Australia will do everything she can to ensure total success of the event.  She made this observation at a meeting in the Australian Parliament in Canberra on Wednesday.
Australia's Foreign Minister Senator Robert Carr reiterated the enthusiastic support of his country for the Commonwealth Heads of Government Meeting in Colombo in November.
Australia will send to Colombo two Senior Officials to share with Sri Lanka the country's hands-on experience with regard to the logistics of the Commonwealth Summit which was held in Perth, Western Australia, two years ago, the Australian Foreign Minister said.
The Foreign Ministers of Sri Lanka and Australia discussed plans for  expanding development  cooperation between the two countries.  They noted that Australian Development Assistance last year, in terms of the actual outcome had significantly exceeded the original commitments.
Prof. Peiris welcomed the signing of the revised Air Services Agreement between the two countries as a means of improving connectivity and enabling larger numbers of Australian tourists to visit Sri Lanka.
Dairy development and extension of AUSAID programmes for Sri Lankans  to read for  postgraduate studies in Australian Universities were discussed by the two Ministers.
Mr. Stephen Smith, Australia's Minister for Defence, at his meeting with Prof. Peiris, expressed appreciation of Sri Lanka's  sustained and effective initiatives to curb people smuggling, and conveyed to the  Sri Lankan Minister Australia's willingness to make available to the Sri Lankan authorities appropriate facilities, including a Coast Guard vessel, to assist with these operations.  They noted that the Joint Working Group is producing positive results, and that further modalities will be discussed between the Chiefs of the two  Navies shortly.
At this meeting, as well as in his discussions with Mr. Brendan O'Connor, the Australian Minister for Immigration and Citizenship, Minister Peiris gave an account of continuing activities by LTTE front organizations and pressed for their proscription under the Australian Criminal Code Act.
Minister Peiris had discussions with Ms. Anna Burke, Speaker of the Australian Parliament, as well as with Mr. Tony Abbott, Leader of the Opposition, Ms. Julie Bishop,  Deputy Leader of the Opposition and Spokesperson for Foreign Affairs, and with Mr. Scott Morrison, Shadow Minister for Immigration and Citizenship.  Opposition personalities, too, expressed emphatic support for CHOGM in Colombo.
He addressed Heads of Mission accredited to Australia at a reception hosted by Admiral Thisara Samarasinghe, Sri Lanka's High Commissioner in Australia.  He also  had an interaction with the Sri Lankan community in Canberra, and was interviewed by ABC Television.
Minister Peiris was accompanied by a delegation of Sri Lankan Members of Parliament, consisting of Parliamentarians Namal Rajapaksa, Lohan Ratwatta, Thilanga Sumathipala and Wasantha Senanayake.
(Ministry of External Affairs – Sri Lanka)
Latest Headlines in Sri Lanka