Ayurvedic Expo 2011- Sri Lanka promotes Indigenous Medicine
Posted by Editor on July 16, 2011 - 8:13 am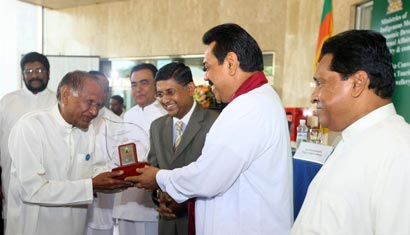 Onlanka News – By Janaka Alahapperuma
(Pix by: Chandana Perera)
Ayurvedic Expo 2011 International Indigenous Health care Exhibition, Trade Fair and Symposium was ceremonially inaugurated by President Mahinda Rajapaksa at the Bandaranayaka Memorial International Conference Hall  at BMICH, Colombo today on 15 July.  The three day mega Exhibition & Symposium will showcase and promote local and foreign Ayurvedic products and services from over 20 participating countries including India, Canada, Singapore, Pakistan, the Netherlands, Japan, China, the United Kingdom, Germany and South Africa.
Ayurvedic EXPO 2011 jointly organized with the Chamber of Commerce, Sri Lanka Tourism, Ministry of Indigenous Medicine, Export Development Board and the Ministry of External Affairs. The exhibition geared to promote tourism, trade and preservation of Indigenous Medicine in Sri Lanka. It also promote natural Ayurvedic medicine something is unique to Sri Lanka and treatments along with different forms of medication.
Local and foreign exhibitors have maximum exposure, publicity for their products and services with an excellent brand image and ample opportunities to interact with foreign and local clients. Visitors will have the opportunity to know from A – Z about indigenous health care products, services and treatment methods practiced in Sri Lanka and other Countries. There are stalls of products and services from sectors such as eco- friendly health food, acupuncture, homeopathy, beauty care products and a host of other sectors connected with Ayurveda.
President Rajapaksa presented awards to many institutions which had worked for the well being of the indigenous medical sector.
Prime Minister, D.M. Jayaratne, Minister of Indigenous Medicine, Salinda Dissanayaka, Deputy Minister Pandu Bandaranayaka, Deputy Minister Jayaratne Herath Chairman of the Sri Lanka National Chamber of Commerce, Ashoka Hettigoda and Chairman of the Sri Lanka Export Development Board, Janaka Rathnayaka were also present on the occasion.
The Exhibition will continue until Sunday 17 July.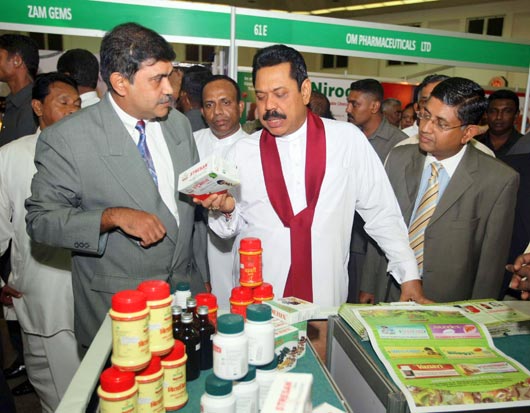 Latest Headlines in Sri Lanka