UNP-JVP fight over Anoma
Posted by Editor on July 17, 2011 - 9:56 am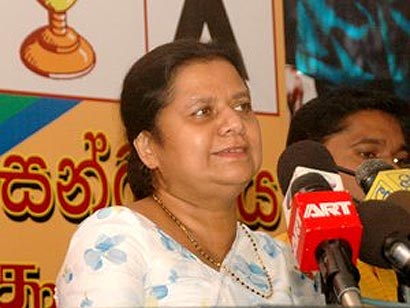 The United National Party (UNP) and the Janatha Vimukthi Peramuna (JVP) are in a tussle to coax wife of former Army Commander Sarath Fonseka, Anoma Fonseka, to come forward as their Mayoral candidate for the Colombo Municipal Council, party sources say.
"The JVP had asked Anoma Fonseka to campaign for them some time back and getting wind of this the UNP also made approaches. However if she does come forward and support a party, it is most likely to be the JVP," one source said.
JVP Propaganda Secretary Vijitha Herath however claimed that this was merely a rumour, but political sources counter that the former Army Commander's wife is extremely close to the JVP. Fearing that her joining the JVP would affect their voter base the UNP has offered to appoint her deputy leader of the party; she has thus far not responded to that offer.
Source: Lakbima News
Latest Headlines in Sri Lanka