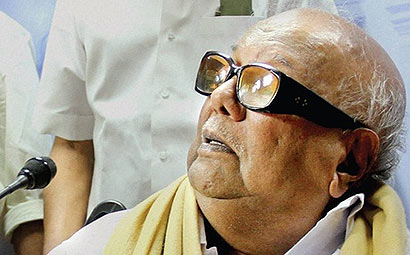 DMK chief M Karunanidhi today cautioned India against supporting a "watered down" resolution by the US on Sri Lanka in the UN Human Rights Council over alleged rights violations during the last phase of civil war against LTTE in 2009 in the island nation.
New Delhi should not "withdraw" from the demand for international probe on the matter as the resolution has supported domestic probe by Colombo, he said.
"Attempting to support US (sponsored) resolution would amount to denial of justice" to Tamil victims of alleged human rights violations and war crimes, Karunanidhi said, adding, Tamils wanted India to "tread the issue cautiously."
Referring to Colombo's insistence on a domestic probe into the allegations, Karunanidhi said the call for international investigation had been made since the internal inquiry "will not be dispassionate and neutral."
US had initially in its draft resolution in the UNHRC had "made several allegations" against Sri Lanka which had objected to them and following this talks were held between officials of the two countries, he said in a statement here.
In the final draft, US had made no mention of international probe "and a question has cropped up why America had to alter its stand," he said.
There could be even further amendments to the draft before it was taken up for discussion on September 30, Karunanidhi said.
"India has extended its support to this watered down resolution by America," he said referring to External Affairs Ministry Spokesperson Vikas Swarup's remarks in this regard.
Swarup had said, "As far as India is concerned, we naturally support the quest for justice. At the same time we are respectful of Sri Lanka's sovereignty."
"…Our expectation at this point is that hopefully it will be a consensus resolution which everyone will be able to pass unanimously and it is something which will be acceptable to the Government of Sri Lanka also," Swarup had said which Karunanidhi quoted.
He said India should not make the "smallest of withdrawal from the demand for international investigation on the Sri Lankan Tamils issue."
(PTI)