Ban spot-fixers for life, says Muralitharan
Posted by Editor on October 14, 2012 - 6:26 am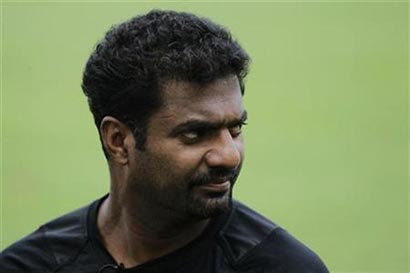 (Reuters) – Anyone involved in spot-fixing should be banned for life, former Sri Lankan spinner Muttiah Muralitharan told Reuters on Saturday, days after six umpires were provisionally suspended for allegedly agreeing to fix matches.
India TV showed footage on Monday of what the news channel said was officials from Pakistan, Bangladesh and Sri Lanka negotiating deals with under-cover reporters to affect the outcome of matches. (ICC LAUNCHES INVESTIGATION. READ here)
Pakistan's Nadeem Ghauri and Anees Siddiqui, Nadir Shah of Bangladesh, and Sri Lanka's Gamini Dissanayake, Maurice Winston and Sagara Gallage were all seen agreeing to give favourable decisions in exchange for umpiring contracts and money.
Shah and Ghauri have denied the charges.
The International Cricket Council (ICC) imposed the suspension on Wednesday ahead of investigations and Muralitharan, the leading wicket taker both in test and one-day internationals, said anyone found guilty deserved the severest punishment.
"Definitely, people that do these things should be punished for life. They, at any level, should not be tolerated," the 40-year-old told Reuters in an interview in Singapore on Saturday.
"I think the ICC are doing the right thing…if they are found guilty, they will definitely be punished."
The latest case of spot-fixing was another blot on the sport which suffered a wave of negative headlines when three Pakistani internationals were found guilty of spot-fixing during a test series in England two years ago.
Salman Butt, Mohammad Asif and Mohammad Amir were jailed in Britain for their roles in a gambling-inspired plot to bowl no-balls at pre-arranged times during a test match at London's Lord's Cricket Ground in August 2010.
In May, another sting operation by India TV led to the Indian cricket board banning one uncapped player for life and handing out lesser punishments to four others for involvement in corruption in domestic cricket.
BAD EGGS
Muralitharan, who took 800 test wickets in a glittering career to go with 534 from one-dayers, backed the ICC and said it was good that people were being caught and not allowed to get away with damaging the sport.
"I think they (the ICC) are doing the right things but there are always bad eggs in everything," the off-spinner known more commonly as 'Murali' said.
"In society there are good people and bad people and it has always been like that, but fortunately they get caught so that means cricket is getting cleaner and cleaner.
"I think ICC are doing a lot of education (programmes for players). Cricket boards, match referees, management (are also) educating, so there is enough education."
While Muralitharan has retired from international cricket after nearly two decades of bamboozling batsmen, he continues to ply his trade in the lucrative world of Twenty20.
He is contracted to play one more season with the Royal Challengers Bangalore in the Indian Premier League (IPL) and has signed up for a season with the Melbourne Renegades in Australia's Big Bash which starts in December.
"Definitely, IPL is one of the big tournaments in the world, Big Bash as well. I'm playing in the Big Bash, hopefully for the first time and hopefully I will do well in Australia.
"One more year I will play for the Royal Challengers and we will see after (that). See how my form goes," he said of his future beyond those tournaments.
Muralitharan's appearances down under could also bring the Sri Lankan up against sprint king Usain Bolt, with the multiple Olympic champion rumoured to be discussing dropping his running spikes for a brief spell in the tournament.
"(I would) Love to meet him, he is one of the greatest sportsmen in the world, everyone loves him so hopefully we score so many runs and he chases the ball," Muralitharan laughed.
Source: Reuters
Latest Headlines in Sri Lanka