Baratha killing: Family ask why Duminda is not a suspect
Posted by Editor on October 19, 2011 - 9:28 am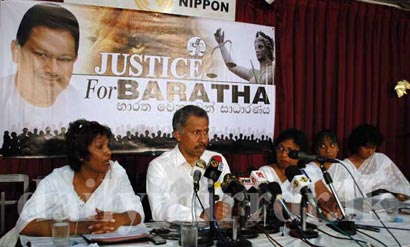 The family of presidential adviser Bharatha Lakshman Premachandra yesterday asked why parliamentarian Duminda Silva was not a prime suspect in the investigation into Mr. Premachandra's assassination and said they had no confidence in the probe carried out so far.
Mr. Premachandra's brother Asela told a news conference they had urged the authorities to carry out an impartial inquiry into the killing of their brother.
"According to one of the eye witnesses, Duminda Silva shot my brother. So how can they say he is not a suspect? This means that they pick and choose whom they think should be a suspect in this case," he alleged.
Asela Premachandra claimed that though Media Center for National Security (MCNS) Director General Lakshman Hulugalle had said Silva was not a suspect in the case, the CID had informed the Premachandra family that investigations into his assassination were still going on.
"Various contradictory statements are being made on the inquiry and we are very disappointed with the government's response to this tragedy," he said and added that since their brother's killing, President Mahinda Rajapaksa had not spoken to the family nor had he visited the funeral house at Kolonnawa.
Asela said there were threats to Mr. Premachandra's life in February this year and that the family had written to government officials including Defence Secretary Gotabaya Rajapaksa requesting for more security personnel but nothing had been done at the time.
He said Silva was receiving a lot of backing from an influential force within the government. "We do not blame the government but we feel there are certain elements within the government that are protecting him," Asela said.
"Why are the authorities afraid to take any action against Duminda Silva? The man who shot our brother is being protected in a hospital," Mr. Premachandra's elder sister Swarna Gunaratne alleged.
She said there was mystery and suspicion surrounding Silva after the shooting incident.
She asked why Silva was rushed to the Sri Jayewardenepura Hospital after the Mulleriyawa shooting and said if he was in a critical condition he should have been rushed to the closest hospital. She said it was also suspicious as to how two suspected people received visas to go to India two hours after the incident took place.
Ms. Gunaratne said if Silva was in a critical condition how come he was eating solid food just days after the shooting took place.
"He had miraculously survived after supposedly being on the verge of death but we do not believe this to be so. We have doubts about his health condition," she said and questioned why the Sri Jayewardenepura Hospital Board was dissolved and why the hospital was surrounded with security personnel after the Duminda Silva was admitted.
Ms. Gunaratne who is a Canadian resident said when she returned to Sri Lanka after her brother's death investigations had not even begun. "This is a situation where politicians have taken the law into their hands and do as they wish," she said.
Courtesy: DM Online
Latest Headlines in Sri Lanka