Basil as special envoy to India on Lanka 13A
Posted by Editor on July 1, 2013 - 8:54 am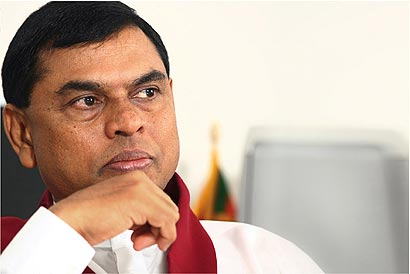 Sri Lanka will send President Mahinda Rajapaksa's younger brother Basil Rajapaksa to Delhi to hold talks with Indian leadership over its controversial plan to tinker with the India-moved thirteenth amendment (13A), government sources today said.
Basil Rajapaksa, the minister of economic development and the key political advisor to his brother, would leave Colombo on July 4.
Analysts say Indian pressure has forced Colombo to retain the 13A sans amendments until the conclusion of the northern provincial council elections scheduled for September.
Khurshid in a phone conversation with his Sri Lankan counterpart G L Peiris in May had stressed that Colombo should not unilaterally move against the 13A.
The younger Rajapaksa visit comes in the backdrop of a visit to New Delhi by the main Tamil party Tamil National Alliance (TNA) which opposed the government plans at the behest of its nationalist allies to dilute 13A.
The tinkering of the 13A, a byproduct of the Indo-Sri Lankan Accord of July 1987 to try and resolve the ethnic conflict, is being attempted ahead of the provincial council elections in Tamil-dominated northern areas in September.
TNA has said it will not take part in the proposed Parliamentary Select Committee (PSC) proceedings to review the 13A, saying it has been convened to strip provincial council of powers.
A senior TNA legislator, Suresh Premachandran, said his party has decided to skip the PSC proceedings, which is expected to get underway on July 9, PTI reports.
(Courtesy: Ada Derana)
Latest Headlines in Sri Lanka