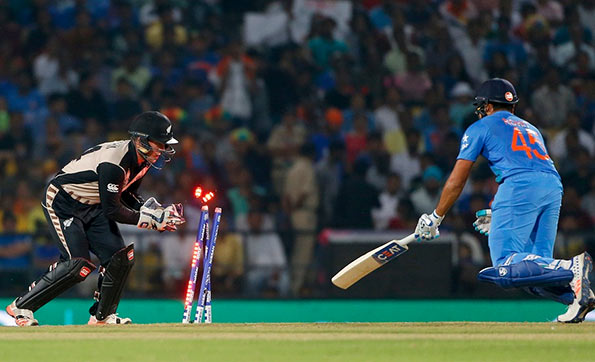 New Zealand stunned India with a 47-run win in the opening match of the world T20 at Nagpur today (15th).
Having been restricted to 126 for seven on a slow, turning pitch, New Zealand then routed the favourites for just 79 in 18.1 overs before a disbelieving packed ground.
So New Zealand's lowest total against India was enough to topple the hosts, who only beat their previous lowest T20 score – against Australia in Melbourne in 2008 – by five runs.
And it maintained New Zealand's grip on India in T20 internationals. Today (15th) was their fifth win in as many matches against them.
New Zealand's ploy of playing three spinners, Nathan McCullum, Mitchell Santner and Ish Sodhi, and omitting the first choice pace trio of Tim Southee, Trent Boult and Mitch McClenaghan, paid off in spades as all three produced key wickets to keep India on the run.
Santner and Sodhi in particular also found prodigious turn which helped undo India's batsmen, who were unable to make progress on a pitch devoid of pace and grass.
India lost their first three wickets – two to McCullum and one to Santner – for 12 in the first 17 balls of the chase.
Another three fell for four runs in 14 balls, including the key batsman, Virat Kohli.
He was caught behind off legspinner Sodhi's first ball – a beauty which pitched, turned and took a faint edge – for 23 at a point where he was shaping as the batsman who could carry India out of the mire.
Sodhi followed that with a fine diving return catch to dismiss the dangerous Ravi Jadeja, then had Hardik Pandya lbw.
That left captain MS Dhoni as India's one remaining hope.
He managed one thumping six off Sodhi back down the ground before falling to a spectacular catch, diving forward at long on, by Nathan McCullum for 30.
India's best partnership was only 30 for the eighth wicket between Dhoni and Ravi Ashwin.
Match centre with scorecard, wagon wheel and Manhattan/Worm
Santner was outstanding, taking four for 11 off his four overs, while Sodhi took three for 18 from his four, and McCullum two for 15 from three.
Fast bowler Adam Milne wrapped up the crushing win by bowling Ashish Nehra, with 11 balls to spare.
Earlier, New Zealand only got to 126 courtesy of a four and six in consecutive deliveries in the final over by wicketkeeper Luke Ronchi.
Martin Guptill struck the first ball of the tournament from offspinner Ashwin for six back down the ground but was unluckily given lbw to the second, attempting a sweep. Replays showed the ball would have flown over the top of the stumps.
New Zealand's batsmen were unable to force the pace against clever Indian bowling.
The only top order batsman who prospered was Corey Anderson, with 34 but even that took him 42 balls. As it transpired it turned out to be a match-winning hand. It gave New Zealand enough runs to work with.
Ronchi hit 21 not out off 11 balls while Santner got 18 off 17.
New Zealand had two batsmen run out, Ross Taylor to a brilliant piece of work at the non-strikers end by bowler Suresh Raina, diving and flicking the ball one handed onto the stumps with Taylor just out of his crease.
India's bowlers shared the wickets but there were fine performances from slow-medium Raina, and lively Jasprit Bumrah, both of whom conceded just 15 runs off their four overs, while Ravi Jadeja was the first bowler to demonstrate the amount of spin in the Nagpur pitch.
SANTNER SHINES
Man of the match Santner saw something to try and emulate during New Zealand's innings.
He noticed India's left arm spinner Jadeja bowling at a decent clip and the turn he got from the pitch.
"He bowled quit fast into it (the pitch)," Santner said.
"I thought I'd try to do the same.
"There was a bit of spin out there. India bowled well to keep us to 120, which we thought was maybe a bit below par.
"But we stuck at it, we got a bit out of the surface and we're delighted with the win."
Sixteen of Santner's 24 balls were dots and he was hit for just a solitary four, by Dhoni shortly before he was out.
McCullum had eight dots out of 18 deliveries while legspinner Sodhi, demonstrating outstanding control, sent down 14 balls out of 24 which India were unable to score off.
'TOUGH SURFACE'
India's captain Dhoni admitted the batting had let his team down today (15th).
"It was a low-scoring wicket definitely and I though we restricted them to a good total, but there were quite a few soft dismissals," Dhoni said.
"It was not like the deliveries got the batsmen out. But the shot selection kept putting pressure on the batsmen coming in. We had no partnerships in the middle so we were quite down when it came to the run rate."
New Zealand captain Kane Williamson acknowledged it was "a tough surface".
"We thought whatever score we can get we knew would be tough to chase," he said.
"Having said that we would probably have liked a few more runs.
"But the way the boys bowled was outstanding."
Williamson said it had been tough to omit top class seamers Trent Boult and Tim Southee but the state of the pitch dictated the selection.
"They're both world class bowlers but it was important we looked to adapt as best we can to these conditions.
"It did spin a lot and our spinners paid off today (15th)."
New Zealand next face Australia in Dharamsala on Friday night (NZT). Amid fears their campaign could be on the back foot from the opening night, New Zealand can now look forward with confidence to the challenges ahead.
India, now under enormous pressure, play Pakistan in Kolkata early on Sunday
(Source: NZHerald – Pix by AP)