Blasting of Hambantota port rock complete by next month
Posted by Editor on October 20, 2011 - 9:27 am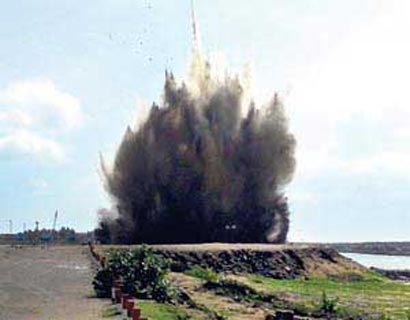 The much discussed blasting of the Hambantota Port seabed rock, which hinders the entrance to the inland harbour, would be completed by early November, Chief engineer of the Hambantota port Agil Hewageegana said.
"The work, which was temporarily halted due to the monsoons, re-commenced in the second week of October and if Hambantota does not experience inclement weather conditions the work will be completed within 30 days," he said.
The blasts are carried out by the Chinese contractors and an additional cost, close to one fourth of the total expenditure for the harbour, has been allocated to remove the rock. Sri Lanka Port Authority had asked China for a US$ 40 million loan to demolish the seabed rock.
Responding to a query, Hewageegana said that the blasting of the seabed rock would not cause any adverse effects to Hambantota city as claimed by certain politicians. "It is an irresponsible and totally politically de-motivating story," he said.
According to Hewageegana, the seabed rock is a part of the one-kilometer-long 240-meter-wide channel that extends towards the sea from the entrance of the inland harbour.
The removal of the rock in Hambantota harbour will fulfill international maritime requirement needed to operate a port, with the endorsement of the Admiralty Chart, he said.
Courtesy: The Island
Latest Headlines in Sri Lanka