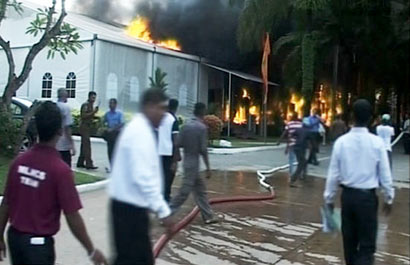 The fire which erupted at a temporary structure built within the BMICH premises this morning was not an act of sabotage and was caused by the leakage of petrol vapour from an oven built by a young inventor, the police spokesman said.
Preliminary inquiries have revealed that the fire had erupted when fuel vapour had leaked from the tube connecting the oven to the petrol, when it was turned on, SSP Ajith Rohana said.
The stove was built by a 24-year-old youth, as a cost effective method to prepare food, and exhibited at a stall at the 'Sahasak Nimevum 2013' national invention exhibition organized by the SLIC today.
The police spokesman also rejected reports that the fire had engulfed the international press centre that was set up for the CHOGM summit held in Colombo earlier this month.
The flames were doused by firefighters within hours after it started, however the temporarily built hall inside the Bandaranaike Memorial International Conference Hall (BMICH) premises was completely destroyed in the fire.
There were no deaths or injuries reported due to the fire although all the equipment inside the structure was destroyed.
Investigations have been launched into the fire under several sections including an inquiry led by the government forensic examiner.
(Courtesy: Ada Derana)