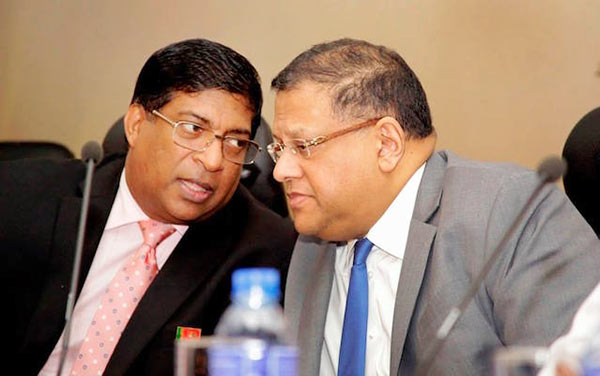 Presidential Commission of Inquiry (CoI) yesterday ordered former Central Bank Governor Arjun Mahendran to immediately hand over his hand phones, tab computers and laptops used since January 1, 2015.
The order followed an application made by Additional Solicitor General Yasantha Kodagoda. Directions were issued to Mahendran's counsel within 30 minutes after having initially reserved the order.
At the time Singaporean national Mahendran received appointment on January 15, 2015, he served as the Chief Investment Officer at Dubai-based Emirates NBD's wealth management arm.
The CoI comprises Supreme Court Judges Kankani Tantri Chitrasiri and Prasanna Sujeewa Jayawardena and retired deputy Auditor General Velupillai Kandasamy.
President Maithripala Sirisena replaced Mahendran with Dr. Indrajith Coomaraswamy in June 2016.
The order was given yesterday in the wake of President's Counsel Rienzie Arsakularatne informing CoI of Foreign Minister Ravi Karunanayake's inability to appear before the CoI as his presence was required at the National Security Council (NSC). The CoI received an assurance from Counsel that FM Karunanayake would appear before CoI next Wednesday (Aug.2).
Karunanayake held finance portfolio till late May this year. Then Foreign Minister Mangala Samaraweera switched portfolios with Karunanayake.
Minister Karunanayake was served summons last Saturday (July 22) to appear before CoI on Tuesday (July 25). Karunanayake didn't respond to the summons on the basis he had to attend the cabinet meeting as well as parliamentary proceedings on that day.
Addressing the parliament on Tuesday Minister Karunanayake strongly denied evidence given by Vinodhani Wijesuriya in respect of luxury 4,000-square-foot penthouse at Monarch Residencies, situated at Colombo 03 occupied by the Karunanayakes at the expense of Arjun Aloysius. The Karunanayakes had moved into the penthouse owned by Ms Wijesuriya in Feb 2016 for a period of eight months.
Well informed sources told The Island that the CoI expected Mahendran to hand over the devices yesterday (Wednesday) in accordance with the directive.
Kodagoda explained that the request had been made against the backdrop of some losing their hand phones, destruction of phones and phone being dropped in a swimming pool in Singapore recently.
In spite of strong objections made by Mahendran's counsel Chana de Silva during brief proceedings, the former CB Governor last evening handed over two phones to the Secretary of the Criminal Investigation Department (CID) assisting the CoI.
Earlier, Mahendran's son-in-law Arjun Aloysius handed over his hand phone after having claimed that the phone he used in 2015 was destroyed in Singapore.
CoI sources said that modern technology allowed experts to garner vital information. Both Arjuna Mahendran and Arjun Aloysius are now expected to be summoned within the next few weeks.
Secretary to the CoI Sumathipala Udugamsuriya yesterday told The Island that it wouldn't meet on Thursday (July 27) though Friday proceedings would take place as scheduled. Udugamsuriya said that Mahendran's communication devices were expected to be handed over during the day.
Meanwhile, Minister Karunanayake yesterday said that an attempt was being made to tarnish his image and he would respond to various claims made in respect of him before the CoI next Wednesday. The minister was addressing a gathering at his ministry. The UNPer declared that he had nothing to hide and was ready to face the CoI.
(Source: The Island – By Shamindra Ferdinando)