Bringing Mahinda Rajapaksa and President Sirisena together SB claims it was his brainchild
Posted by Editor on November 25, 2018 - 6:52 am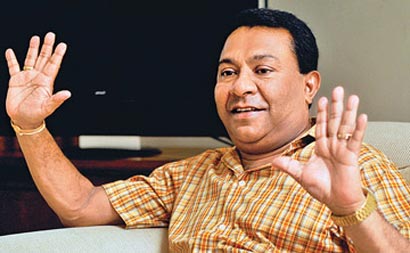 Former Minister S.B. Dissanayaka claims that he masterminded the bringing  together once again of President Maithripala Sirisena and former President  Mahinda Rajapaksa, while noting that the duo will sit together and decide who should be the next Presidential candidate.
Excerpts of the interview:
What was your role in the recent political marriage between President Maithripala Sirisena and former President Mahinda Rajapaksa?
A. I am the one who did that. It was my brainchild to bring them together.
What was the rationale to do so?
A. They think alike. There are lots of similarities between the two. Both of them have left aligned yet middle path thinking when it comes to country or country's economy. Even though they were separated and went different ways for personal reasons, there are few things that connect both President Rajapaksa and Sirisena.
They both love this country immensely and are very patriotic. They have similar political principles.
When you have two people who can relate to each other, that relationship can go ahead. That is why the Ranil-Maithri political marriage could not last long. Those two are poles apart and could not relate to each other in any way. Since they could not agree on anything and engaged in a tug-'o'-war, the country was in a major danger. Its progress was stalled and economy was collapsing. Basically, nothing was moving ahead. Since we cannot continue like that all we did was unite two people who could go ahead together.
So, you think the country will go forward now that these two were brought together?
A. Most certainly! We can easily get together and drive this country forward because we have one policy, one programme and one target.
Even though you sounds so confidant of the country moving forward, all we saw in the past few weeks, since 26 October, the country coming to a standstill. There is not even a sight of this 'progress' you claimed to have.
All what people feel is uncertainty, as you are still struggling to show your strength in Parliament?
A. If people see that country is not moving ahead, that was due to petty politics and the petty agenda of Ranil Wickremesinghe. More than Wickremesinghe, it was Speaker Karu Jayasuriya who should be responsible for this mess. There were two instances where there were governments which did not have majority in Parliament in Sri Lanka's political history.
One was in 2005 during President Chandrika Kumaratunge's time when she appointed Mahinda Rajapaksa as the Prime Minister. We were defeated during the vote on the Speaker and UNP's Senior Vice Chairman W.J.M. Lokubandara was appointed as the Speaker.
As soon as he took the chair, Lokubandara immediately appointed a Select Committee with a majority given to Government of PM Rajapaksa. He immediately appointed business committee as well, thus paving the way for the Government to continue and Parliamentary sittings were not hindered.
Likewise, when President Sirisena appointed Wickremesinghe as the Prime Minister on 9 January 2015, then Speaker Chamal Rajapaksa immediately appointed a Select Committee ensuring that a majority of members were from the Government's ranks, which at the time had barely 50 MPs in Parliament.
Neither Chamal Rajapaksa nor Lokubandara meddled with Parliament or Government business and all what they ensured was smooth flow of Parliament.
In January 2015, we had more than 150, but we never demanded them to show the majority. We could have brought a No-Confidence Motion at that time to send Wickremesinghe home, but we didn't do so. If they have a problem about this Government or the appointed Prime Minister, they should move a No-Faith Motion. But before that, the Speaker should recognise the Government. He should first recognize the Government and then appoint the Select Committee.
Then he should sit with the Leader of the House and prepare the agenda or the Order Paper. Once this was done, there comes a chance to move a No-Confidence Motion.
He has no right to test the floor without doing any of these.
Who is he to say that he's going to decide which side has the majority?
A. It is clear
When exactly did the President or you (UPFA in the Government) feel that you cannot go ahead any longer with PM Wickremesinghe?
A. Well, we felt it from the beginning. We were in the Opposition as we did not join President Maithri in forming the Government. But, we were good friends and we know what his policies and thinking pattern is. He and I were Parliament neighbours as he occupied seat number one and I-two. He wanted to have a scientific Cabinet sans corruption.
He started with great expectations. But, from the beginning his dreams started to shatter. Higher Education Ministry was amalgamated with Highways; Foreign Ministry got the Lotteries Board under it and more than anything else the controversial Treasury Bonds issue which robbed the Central Bank.
It was clear to the President from the beginning that Ranil Wickremesinghe was clearly involved in the whole episode. Wickremesinghe acted from the beginning with clear intention of doing so, and acted accordingly by appointing his non-citizen friend as Central Bank Governor. When everything went wrong and Arjuna Mahendran could no longer be protected from the law, Wickremesinghe made sure that he was safely out of the country and being looked after by the diplomatic mission of Sri Lanka in Singapore.
I strongly believe that President Sirisena also had an involvement in Wickremesinghe's name not coming into the main report of the commission. Otherwise, Wickremesinghe too should be in jail.
In addition, they sold many State properties underhand to individuals, from which they gained commissions of millions of rupees. It is these funds they use to buy over MPs.
In the midst of all these, it was revealed that there was an assassination plot against President Sirisena and the former Defence Secretary. While there were many issues about the way the IGP and the Police conducted the investigations, what raised more concerns was the fact that Wickremesinghe did not utter a single word about the assassination plot, Police investigations or offering a word of assurance to President Sirisena.
This was despite his meeting President Sirisena individually more than 25 times. There can be no high profile assassination plot in a country, without political help and blessings.
These were in addition to economic downgrade and the devaluation of the rupee. Did Maithri come out of the Rajapaksa Government to have all these?
A. No, because, the economy was in a better position during Rajapaksa's time.
But, Minister, none of these reasons justify the act by the President to abruptly sack the democratically-elected Prime Minister and the Government. They were elected for a five-year run. Can you justify they being forced to stop taking part in this run when they only completed three and a half rounds?
A. We may have been in a five-year run, but for the past three and half years, they didn't compete properly- they did not run. All they did was crawl or run in reverse. As the Head of the State, how long can he be ignorant? There's one and half years left and should he, as the President let country go into gutters during that period? Therefore, I think he, as the President who is accountable to his people, did the right thing.
Don't you think this controversial decision by the President turned tables for the UNP, which clearly was losing face and provided an opportunity for the UNP to gather momentum?
A. No, I don't think so. If so, they could have demanded a General Election. Why did they seek help to prevent the dissolving of Parliament? They could have said ok let's go for an election. They didn't say so because they know that the party has not gained that momentum in grassroot levels. If you take the local government results, a majority of leftist, patriotic votes went to the SLPP led by the Rajapaksas and the minority community vote was with President Maithri.
How confidant are you, of the popularity of these two, being intact even after 26 October?
A. I still believe strongly they are still popular as they were before. It is those upper-middle class, so called elite, NGO types that scream against them. That does not represent the real mandate of the general public. Sometimes these organisations only have the founder in it and not even the spouse.
So, who approached you first in forming this political alliance? Was it the Rajapaksa faction or the Sirisena faction?
A. It came from my side. This is the need of the hour. When we came out of the government we said that there should be a government led by Mahinda Rajapaksa. I think it was Dilan Perera who openly said it and he came under attack by the Joint Opposition at the time. They said they will look after MP Rajapaksa and Dilan or we have no business.
You said this was the need of the hour when it comes to the country. But people believe this unison was made purely on personal grounds, especially because of major legal cases faced by Rajapaksa family members and several others in the joint opposition. Are you denying those?
A. There are legal cases pending, but that most certainly is not the reason. The country and its economy were in danger. Now, take the current situation for an example. Who leads the UNP campaign, is it Ranil? No! This entire campaign is led by TNA's M.A. Sumanthiran.
When an all party conference was called, who started speaking for the UNP despite having all its leaders at the roundtable? It was Sumanthiran and he was backed by Rauff Hakeem. I think the UNP is currently funded and maintained by the LTTE Diaspora. Otherwise, how come they have so much of funds to offer Parliamentarians and buy them over?
Is it only UNP that engaged in buying over MPs? What about that infamous audio record of yours in which you try to buy over MPs?
A. I never offered money. Even that MP said so. I admit that I approached everyone. I spoke to many MPs even last night and I will continue to do so. The only person I did not ask to join us is probably Ranil Wickremesinghe. We can have 113 MPs. We actually had more than 119. We can have the majority at any given time. We just gave them up.
Why did you let them go?
A. We gave up the majority as the Parliament was dissolved. Who wants to face an election from a rival party this soon? All who would cross over are scared to face an election. Everyone, except those in the Joint Opposition and the group of 16 who left government was scared to face an election. Even the 23 SLFP members who remained in the government could not face an election successfully. Now we are not going for an election and that is our assurance.
Who is your next presidential candidate now that MP Mahinda Rajapaksa and a larger group have taken membership of the Sri Lanka Podujana Peramuna?
A. Well, we have already come up with a name and symbol for our alliance in which the SLFP and SLPP will be members. I think, when it is time President Maithripala and Prime Minister Rajapaksa will sit together and decide who will be the best presidential candidate.
Will it be President Sirisena or Gotabaya Rajapaksa?
A. Well I think Gotabaya has now made it clear he will not get involved in active politics or run for elections. It can be either President Sirisena or someone else.
Who do you trust most- President Sirisena or Prime Mnister Rajapaksa?
A. (Laughs) Both are my friends…
(Source: Ceylon Today – By Gagani Weerakoon)
Latest Headlines in Sri Lanka