British Prime Minister sends his best wishes to all Buddhists celebrating Vesak
Posted by Editor on May 14, 2014 - 5:50 pm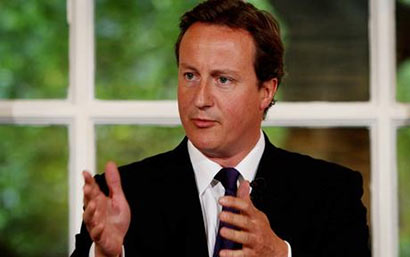 – by Janaka Alahapperuma –
British Prime Minister, David Cameron, sends his best wishes to all Buddhists celebrating Vesak on May 14, 2014. This is the first time Mr Cameron has issued a Vesak message since he assumed office in May, 2010.
In his message issued by PM's office the British Premier said;
"I'd like to send my best wishes to Buddhists in Britain and around the world celebrating Vesak, the sacred festival commemorating the birth, enlightenment and the passing away (Parinirvana) of the Buddha.
For millions of people it is a time to reflect on the Buddhist teachings of tolerance and compassion, and to make offerings to those in need. It is a special occasion that reminds us of the sincere and enduring principles espoused by Buddhists throughout the world.
At this time I'd like to especially praise Britain's Buddhist communities for the outstanding contribution they make to our country. You play a valued and important part in our Island story and I thank you for everything you do.
To Buddhists in the UK and the world I wish you a happy and peaceful Vesak."
However to commemorate "Sri Sambuddhathwa Jayanthi" which marked the 2600th year of the Enlightenment of Lord Buddha, which was celebrated in the year 2012, British Government organised a first ever Vesak celebration under the patronage of Baroness Sayeeda Warsi, Senior Minister of State for Foreign and Commonwealth Affairs in the Foreign and Commonwealth Office and Minister for Faith and Communities.
Earlier in 2009, then Prime Minister Gordon Brown surprised British Buddhists by issuing the first ever Vesak message which was highlighted as a very rare occasion in the UK history by many Buddhists scholars.
Latest Headlines in Sri Lanka