Bus fares to be increased by 7% from November
Posted by Editor on October 13, 2013 - 10:25 am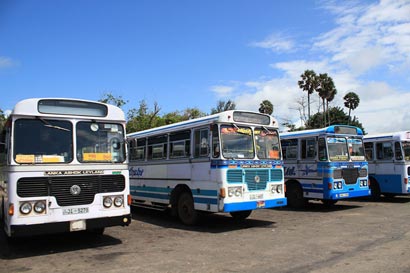 Private bus fares will be increased by 7 per cent with effect from November 01, Minister of Private Transport Services C. B. Rathnayake said yesterday.
A statement issued by the ministry states that relevant cabinet paper submitted by the Minister has been granted approval.
President of the Lanka Private Bus Owner's Association (LPBOA), Gemunu Wijeratne, speaking regarding the bus fare hike, stated that they have not been informed of the fare hike and that the association's director board will gather tomorrow (13) to discuss the matter.
He stated that they had requested the 7 per cent increase back in February and that the Ministry of Private Transport Services had agreed to it then.
Wijeratne further said that they had sought legal action demanding the 7 per cent increase and as there are issues over the percentage of the increase a decision will be taken by the director board tomorrow and announced.
Meanwhile the Secretary of the All Island Private Bus Companies Federation, Anjana Priyanjith stated that according to the national policy on bus fares a 10 per cent increase should be granted.
He stated that therefore they oppose the 7% hike and requested the relevant authorities to refrain from violating the policy.
He stated that if a solution is not provided over the matter, they will resort to legal action as the 7 per cent increase is unacceptable.
(Courtesy: DM Online)
Latest Headlines in Sri Lanka