BUSES DAMAGED DURING A SHOOTING AT MATARA
Posted by Editor on May 4, 2011 - 7:57 pm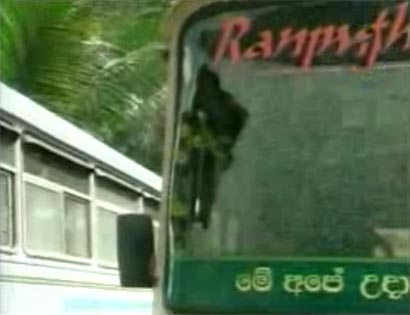 The police said that several buses belonging to a private bus owner in the Dideniya area in Mawarala, Matara have been damaged during an incident of shooting carried out by an unidentified group.
It is reported that six of the seven buses which were parked outside the bus owner's residence have thus been damaged but no casualties have been reported as a result of this incident  which occurred at dawn today.
'Buses from Matara, Pitabadamulla, Akuressa and Kaburpitiya were parked here.We heard the sound of gun-shots at around 1.15 a.m.. When we came out we saw that  windows of  the buses were damaged. One bus however was not damaged," said a resident.
A senior police officer said that a special police team has been deployed to carry out investigations by Senior DIG in charge of the Southern Province Kingsley Ekanayake.
Meanwhile, the police have discovered twelve empty bullet casings similar to T56 ammunition, at the location.
The Police Forensic Investigations Unit and the  Finger-print Investigations Unit have been summoned to carry out further investigations.
Courtesy: News First
Latest Headlines in Sri Lanka