Cabinet approveS National Action Plan to implement LLRC recommendations
Posted by Editor on July 27, 2012 - 11:27 am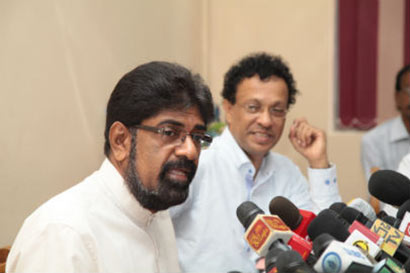 The report of the LLRC contained 285 short term, medium term and long term recommendations and they have been classified into four main groups as follows:
– Recommendations relating to National Policy;
– Recommendations pertaining to the final phase of the conflict;
– Recommendations related to human rights
and National security concerns; and
– Recommendations related to resettlement and development.
Over 60 percent of the short term recommendations have been implemented by the government.
The recommendations include rehabilitation of the former LTTE Cadres, demining, resettlement, improvement of living standards of the people, provision of employment opportunities etc.
This was stated by the Minister of Mass Media and Information Keheliya Rambukwella addressing the Cabinet Decisions announcement Media Conference held at the Ministry of Mass Media and Information yesterday.
He said that the Cabinet approved the National Action Plan submitted by the President Mahinda Rajapaksa and appointed a Task Force headed by the Secretary to the President Lalith Weeratunga to monitor the implementation of the recommendations of the LLRC.
He said that the Action Plan has named implementation of recommendations according to activity, key responsible agency, key performance indicator and a timeframe for each task. A committee headed by the Secretary to the President has drafted the Action Plan.
Financial provision required for the implementation of the Action Plan will be provided by the General Treasury, depending on the requirement and within the stipulated time frame. Funds for the purpose from 2013 onwards too will be provided by the General Treasury to the respective Institutions.
Responding to questions raised by the media personnel the Minister said that the Sri Lankan asylum seekers who are repatriated must undergo due legal process, and the government ensures it will neither hamper their future nor harass them. The asylum seekers commit an offense by attempting illegal migration and they must be dealt with according to the law of the country. He emphasized that the asylum seekers cannot be allowed to damage the image of the country by making false statements and hence their statements should be investigated.
Responding to another question about the allegations of a threat being made to the Mannar Magistrate, the Minister said that the law of the country will be applied to everyone and there  will be no interference by the government in the implementation of the Law.
As regards the Z-Score issue he said that the Minister of Higher Education S.B.Dissanayake is due to address the media shortly at the same premises on the subject and also said a separate media conference will be held by the Minister of External Affairs at his Ministry on the plans of implementing LLRC recommendations.
The Director General of Government Information Prof Ariyaratne Athugala and several others attended the Media Conference.
Source: Government News Portal
Latest Headlines in Sri Lanka