Call is getting louder for the arrest of Sarath Fonseka
Posted by Editor on January 29, 2010 - 10:04 am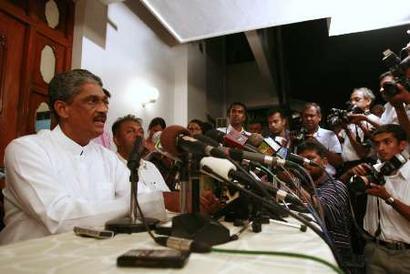 Source: AT – By K.T.Rajasingham
Now that the Presidential election is over and Mahinda Rajapaksha has been elected for the second term as the President of Sri Lanka and the call for the arrest of Retired Gen. Sarath Fonseka is becoming more louder and louder for his excesses.
The retired General, who contested against his Commander in Chief, has been trounced miserably. Today he is nothing, worthless like the former 1 cent copper coin.
Sarath Fonseka is today a common citizen; he has lost all his clout; the country has rejected him. The day when he joined hands with the rump LTTE group, his fall had begun.
The UNP and the JVP + Mangla Samaraweera and Mano Ganeshan had a 44 per cent of the votes in the 8 provincial council elections that were held in 2009.
But in the Presidential election held on last January 26, Sarath Fonseka was unable to sustain that 44 per cent but even the hardcore UNPers and JVPers has rejected him as he polled 40.15 % votes only.
Though he has been rejected by the people of Sri Lanka that must not mean he should be ignored and allowed to go free without settling accounts. He is accountable for many things that surfaced as he became a public figure. There are voices from several quarters that he should be brought before the courts of law.
Just because he contested the election that does not mean he should be absolved from all previous crimes he has committed, say the general public.
A handful of Western countries paid to him in millions to bring Sri Lanka under their control. It was unfortunate those countries which boast of human rights and freedom, were unnecessarily interfering in the activities of a sovereign country and make use of an Army officer with the ill intention of bringing the country under the dictatorship of that officer.
Therefore, the Sri Lanka Government should have the courage to indict him, file charge sheet against him and bring him before the court of law after, of course, giving him an opportunity clear his name, failing which he should be lodged in the prison as sentenced by the courts.
The latest allegation that has emerged was that he planned to assassinate President Mahinda Rajapaksa and his family.
At a press briefing held on Thursday, the Director of the Media Centre for National Security Lakshman Hulugalle told reporters that Gen. Fonseka moved into the hotel with over 70 retired army officers and deserters to plot the assassination of victorious President Mahinda Rajapaksa and his family members.
He said "we have evidence that the General planned this after opinion polls carried out by the opposition United National Party predicted a 50:50 split verdict.
Lakshman Hulugalle has publicly anounced that "we have evidence that the general planned this", then why the Government is hesitating to arrest.
Asian Tribune has already published many investigative reports with authoritative documents where Sarath Fonseka has been implicated with many nefarious activities which is more than enough to indict him and taken to courts.
Furthermore, Asian Tribune published a news item Fonseka's men on a conspiracy to provoke violence bared where it was pointed out the former Army colonel Kapila Ratnayaka telephoned Colonel Harendra Ranasinghe to disobey the orders of the Army Commander and his superiors.
Furthermore, Kapila Ratnayaka has clearly told that was an order from General Sarath Fonseka.
The law abiding army officer who felt that it was highly an illegal order, also a conspiracy against the country and his life was in danger, immediately lodged a complaint with the police.
General Fonseka harbored dozens of Army Deserters and Army absentees. The former Commander should have been aware that was serious offence. Knowingly he has aided and abetted in this serious offence. He also paid for these Army deserters monthly Rs.50,000/= a serious crime giving financial inducement to continue to remain as Army deserters and absentees.
Furthermore it was amply proved that while he was in the military service as Sri Lanka Army's Chief of Defence Staff, he was planning plotting against his Commander in Chief and secretly negotiating with the opposition political parties to sabotage the Government led by Mahinda Rajapaksa and also to politically oppose him.
Three months before Sarath Fonseka's retirement as the Chief of Defence Staff, the opposition parliamentarian and leader of the Sri Lanka Freedom Party (Mangla Front) came on the air and said that Sarath Fonseka will contest election as the common opposition candidate in the Presidential election. This was confirmed by the former UNP stalwarts. Minister Johnston Xaviour Fernando has confirmed it in one of his statement. While being in the military service an officer of the Army planning and plotting against his Commander –in Chief was a punishable offence.
There were rumours of an impending coup to be staged by Sarath Fonseka when he was the Chief of Defence Staff of the Sri Lanka Army. In his letter dated 12 November 2009 addressed to the Sri Lanka President Mahinda Rajapaksha regarding his retirement from the Army, he mentioned –
"With a pain of mind it was noted that the same Army which gained victory for the Nation was suspected of staging a coup and thereby alerting the Government of India once again on the 15th of October 2009, unnecessarily placing the Indian Troops on high alert. "
It was felt as a statement to cover his covert acts and preempt from others coming up with his failed arrangements to stage a coup. Therefore it is important that Sarath Fonseka should have to be investigated on this aspect and brought before the courts.
To temporarily end this piece on the retired General Sarath Fonseka who considered the Sri Lankan Army as his private fiefdom has threatened several loyal army officers who are in service currently.
He has mentioned a few names and not mentioned other officers names.
He has threatened in his public political rallies that those officers who went on the electronic medias and told their side of the stories as to how they have been mistreated will be arrested and put in the Bogampara or in the Welikade prisons.
He also said that a total 49 Army officers will be arrested and jailed in the Bogampara high security prison in Kandy.
Also it is important that Government has to arrest Sarath Fonseka and investigate the murders of high valued journalists Sunday Leader Editor Lasantha Wickramatunga and the abduction beating of many other journalists.
This matter has to be brought to an end and this can only be done by investigating and interrogating Sarath Fonseka.
Latest Headlines in Sri Lanka