Calls for international war crimes probe insulting – Chandrika
Posted by Editor on March 16, 2015 - 1:12 pm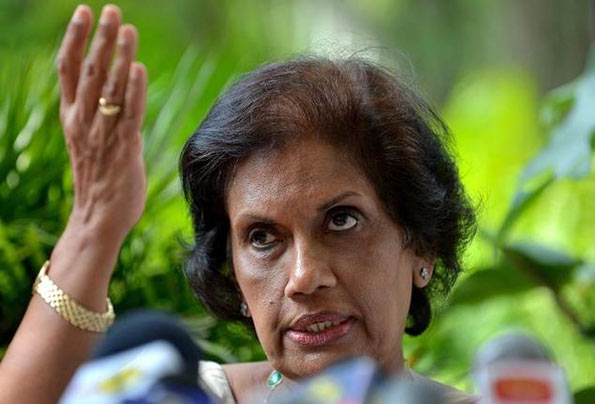 Sri Lanka is united against an international investigation into alleged war crimes during its 26-year-long civil war, according to its former president, Chandrika Kumaratunga.
Kumaratunga, who served as president of Sri Lanka from 1994-2005, said that both the Sri Lankan people and its politicians found the calls for a UN-led international investigation "insulting" by implying that the country could not carry out its own.
Speaking to IBTimes UK on at the International Conference on Education in Dubai, she said that while Sri Lanka would ask the UN to provide technical support, the probe would be a domestic one.
"The whole country doesn't want (an international inquiry) because it is the feeling that it is insulting to the government that we cannot carry out our own investigation in a transparent manner," she said.
Sri Lanka's president, Maithripala Sirisena, has said the country would launch a domestic enquiry into crimes committed during the war with the Liberation Tigers of Tamil Eelam (LTTE), but ruled out the investigation being carried out by an international body.
The calls for a UN-led probe intensified in March 2014, when mass graves were uncovered in the Tamil north of the country and the UN Human Rights Council began a report into whether the army had carried out widespread abuses against civilians.
It was announced in February that the report was being shelved for another six months, and is now due in September.
The UN estimates that up to 100,000 people died during the conflict, which ended in 2009.
Filmmaker Callum Macrae recently released No Fire Zone: a documentary in Sinhala – one of Sri Lanka's official languages – which accuses the Sri Lankan government of targeting civilians.
Macrae, who directed the film, said last week that a domestic inquiry would not be credible.
"How does he [Sirisena] expect witnesses and survivors of these awful crimes to come forward and testify at a domestic investigation set up by someone who has effectively said in advance that he 'doesn't believe' the events they will describe? How can such a process be described as 'impartial'?" Macrae said in a press release.
The BBC reported that when President Sirisena was asked about the documentary, he said that he "doesn't believe" the allegations, but Kumaratunga said that the president had been "misunderstood", and that if the filmmakers had evidence then it should be passed on to the investigators.
"If it is presented as evidence then he will see it," she said.
Kumaratunga and her family have been major figures in Sri Lankan politics for almost a century.
Her father, Solomon Bandaranaike, was prime minister until his assassination in 1959, her brother was speaker of the Sri Lankan government and her husband, Vijaya – a popular politician and film star – who was shot dead in 1988.
Kumaratunga was elected president in 1994. Five years later, during her re-election campaign, she was blinded in her right eye after an assassination attempt by the LTTE. She stood down as president in 2005, IBT reports.
Latest Headlines in Sri Lanka