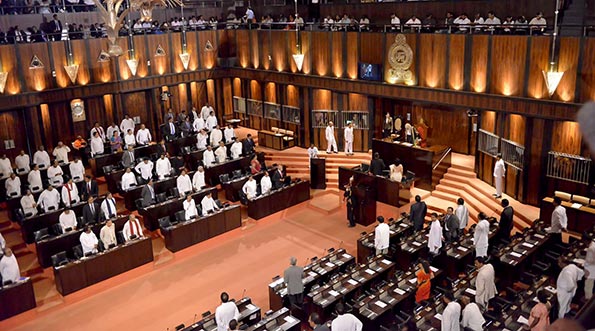 President Maithripala Sirisena said in Parliament yesterday that British Premier David Cameron had vowed to intervene and take steps to lift the EU ban on Lankan fish exports and restore GSP+ (plus) export status to Sri Lanka.
Speaking during the third reading of the Budget proposals yesterday President Sirisena said the international community was far more welcoming and open towards Sri Lanka now, when compared to the recent past adding that discussions with the British Premier had been fruitful.
"In my discussions with the British Prime Minister I pointed out the difficulties Sri Lanka was facing as a result of the EU ban on Lankan fish imports and withdrawal of the GSP+. In response, the British Premier said that he would intervene post-haste to ensure the EU ban was lifted and that Sri Lanka was granted the GSP+ for her exports."
The President added that he was able to meet with the leaders of the three key Commonwealth nations, Canada, Australia and England, within the span of a couple of hours at this year's Commonwealth Heads of Government Meeting, a task that was nearly impossible for a Lankan leader in the recent past, adding that England had promised to provide Sri Lanka with financial aid for further development.
"Because of the hostile tactics of the former government and its isolationist policies a meeting between any leader of the three key members of the Commonwealth and a Sri Lankan leader was close to impossible.
"After the transformation in governance however, and its impact both locally and internationally, I was able to meet with all three leaders within the span of a few hours during CHOGM. The British Premier indicated England's readiness to provide aid to Sri Lanka through a special fund for development."
(Source: Ceylon Today – By Skandha Gunasekara and Gagani Weerakoon)