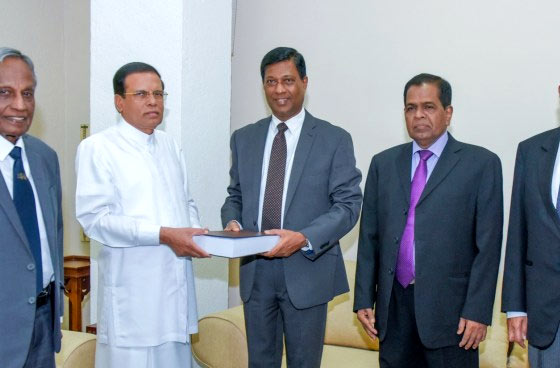 The final report of the Presidential Commission of Inquiry (PCoI) into the Bond Issuance of the Central Bank of Sri Lanka has been handed over to President Maithripala Sirisena today.
"The Report on the Treasury Bond Inquiry by the Presidential Commission of Inquiry was officially handed over to me, a short while ago," the President tweeted.
The Commission's Chairman Justice K.T. Chitrasiri handed over the report and two other members of the Commission, Justice P S Jayawardene and retired Deputy Auditor General, V Kandasamy were present together with the Secretary to the Commission, S Udugamsuriya. Secretary to the President, Austin Fernando was also present on this occasion.
Meanwhile, informed sources said that the President was expected to hand over the report to the Attorney General's Department.