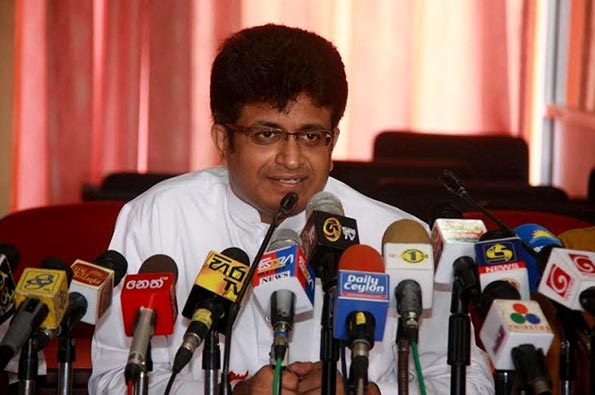 A heated exchange of words took place during a Joint Opposition (JO) media briefing held on Wednesday (Aug 15th). The situation occurred over the JO's refusal to allow a particular media institution to cover the media briefing.
UPFA MP C.B. Rathnayake speaking at the occasion spoke on a recent incident at the Attanagalla DCC meeting, involving former President CBK. Rathnayake expressed his disappointment over the actions of the officials to remove almost all media institutions that attended the event based on an invitation.
It was at this point of time that journalists questioned as to why their institution was not being allowed to cover the JO media briefing. MP C.B. Rathnayake stated that this was because the JO did not invite the media institution to cover the proceedings. MP Udaya Gammanpila who was also at the media briefing joined the conversation and stated that the premises on which the media briefing is being held is a private property and that no one could forcefully enter the premises.
A question was raised as to why the JO does not invite this particular media institution, responding to the query MP Gammanpila stated that at a time when they were speaking about the bond scam, those involved in the scam took steps to pay off media institutions and even take over some of them. He noted that the JO does not invite certain media institutions because they have information that the institutions operate from the proceeds of the bond scam.
(Source: News 1st)