Champika: MR should have stayed at home without troubling Maithri
Posted by Editor on July 21, 2015 - 8:10 am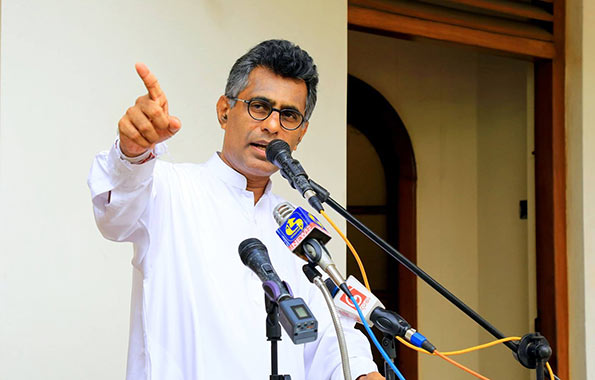 Power and Energy Minister Patali Champika Ranawaka on Sunday said that those who had left the former government to usher in good governance had proved that they were not power hungry.
"It was for the sake of democracy we gave up our ministerial positions when we left the Rajapaksa regime to support the campaign of Presidential candidate Maithripala Sirisena. We knew that the leaders who were in the pockets of drug dealers were not capable of ensuring a bright future for our children," the minister said, addressing an election rally in Homagama.
"Some people ask us today what we did to become eligible to seek a mandate again. We sent home a leader responsible for creating an immoral society. We banned toxic chemicals causing chronic kidney disease and commenced a national kidney treatment centre. We have been able to introduce pictorial warnings on cigarette packets. It is our government that nabbed drug kingpin Wele Suda. We also nabbed several other criminals. There are a few more to be arrested. We removed the taxes from essential food items. We slashed the prices of fuel. Aren't they achievements?
"We thought that Mahinda Rajapaksa would go home after people rejected him and give his blessings to the new president. J. R. Jayewardene did so. He supported President Premadasa. He did not come asking for ministerial or prime ministerial posts. Chandrika, too, did the same. But, Rajapaksa after holding all positions from the MP to President of the country has come back again. This is nothing but greed for power.
"We are the ones who built this nation. We have proved our mettle. We put an end to the oil mafia that ruled the CEB and country's power sector. Sri Lanka is the only country in the region that provides electricity to 100 per cent of the population. We reformed the CEB. We will reform the CPC, too, in the same manner.
"We will build a new united national front. We will create country sans beggars and shanties. You all well know who the thieves are and we are sure you will make the right choice on August 17."
(The Island)
Latest Headlines in Sri Lanka