Mahinda says no to national govt.
Posted by Editor on July 21, 2015 - 8:16 am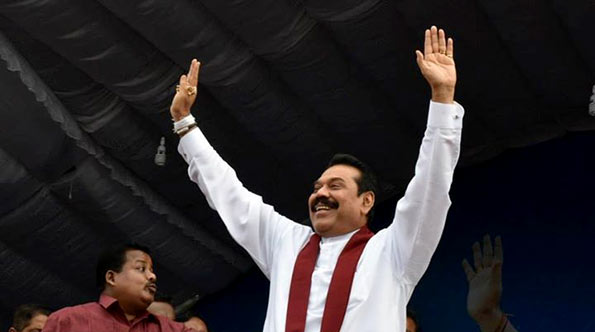 Former President and UPFA candidate for the Kurunegala District Mahinda Rajapaksa yesterday rejected the idea of forming a national government post-election, vowing that the fractured alliance would obtain 117 seats and rule alone.
Addressing an election meeting held at the Battaramulla Samurdhi Hall, Rajapaksa said that it was the UNP which could not set up a government without the UPFA.
"Prime Minister Ranil Wickremesinghe said that they expected to create a national government. This means that they cannot form a government without UPFA support. However, we do not want to create a joint government. We will form our own government," Rajapaksa emphasised.
Going on the offensive against the current administration, Rajapaksa claimed that it had made a number of complaints and allegations against him but had yet to prove any of them. "The Government has alleged that I have $ 18 billion in one of my bank accounts. However, they could not find the name of the bank. If this is true, then I would be the richest man in Asia," he said.
Rajapaksa also condemned the Government's actions against his brother, former Economic Development Minister Basil Rajapaksa.
"Basil helped a number of poor people through Samurdhi donations. He paid bonuses to Samurdhi officers. The Government questioned him over this incident and remanded him," Rajapaksa said.
The former Economic Development Minister was arrested and faces charges for misappropriation of Divi Neguma funds to the tune of hundreds of millions of rupees.
The former President added that the UPFA expected to increase the basic salary of Government employees by Rs. 10,000 a month once the party clinched what he seemed to think was a certain victory.
"We will increase a Government servant's minimum salary up to Rs. 25,000. We expect to produce new job opportunities for the employees who lost their jobs because of this Government," Rajapaksa promised.
(Source: Daily FT)
Latest Headlines in Sri Lanka