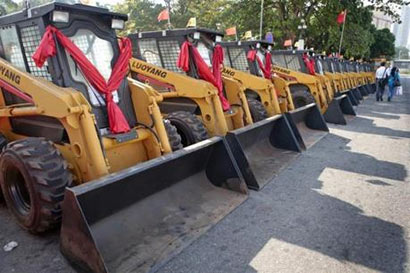 (Reuters) – China was Sri Lanka's top commercial lender and foreign direct investor in the first nine months of 2013, government data showed on Tuesday, as the island nation turns away from Western nations critical of its human rights record.
China committed $517.9 million in commercial loans, around 39 percent of the $1.32 billion total in the period, followed by Japan with $421.5 million, a treasury report showed.
China was also Sri Lanka's leading foreign direct investor, accounting for 24 percent of the total $870 million in FDI from January to September, followed by Hong Kong and Singapore, a report from the Investment Promotion ministry showed.
Since Sri Lanka's 26-year civil war ended in 2009, China has been the main lender for multi-billion dollar projects including new ports, airports, coal power plants, roads and railways.
The $59 billion economy is also considering a free trade agreement with China, Sri Lankan government officials have said.
Western nations and India have criticised Sri Lanka's conduct in the final months of the war with Tamil Tiger rebels.
The United States, Britain and Canada have called for an independent international investigation into alleged war crimes by the Sri Lankan military during a period of a few days in which a U.N. panel estimates that 40,000 non-combatants died.
After Sri Lanka's rights record again came under fire at a Commonwealth summit last month, China came to Colombo's defence, saying it had made big strides in promoting human rights and achieving national reconciliation over the years. (Reuters)