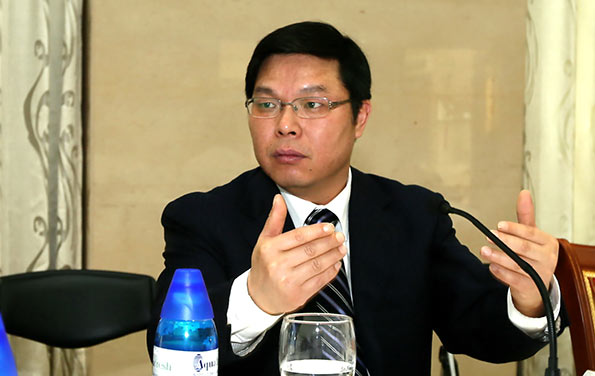 China's top diplomat in the country yesterday said that the world's second largest economy is prepared to commit over US $ 5 billion in foreign direct investments (FDIs) over the medium to long term for special economic zones, if the Sri Lankan government is prepared to authorize them.
"We're looking at the Economic Zone in Hambantota and in the Western Province and also some other provinces. We are looking to invest at least US $ 5 billion over the next three to five years if the government decides to go ahead," Chinese Ambassador Yi Xianliang said.
Speaking at a bilateral trade discussion held at the National Chamber of Commerce of Sri Lanka (NCCSL) in Colombo, Xianliang noted that Chinese FDIs into Sri Lanka this year will run into several hundred million dollars.
Development Strategies and International Trade Minister Malik Samarawickrama had recently said that China had requested 15,000 acres of land in Hambantota to create an industrial park, which would create one million local jobs—coincidentally an election promise of the Sri Lankan government.
He had said that the government is in the process of finding a suitable plot of land in the southern Sri Lankan town, which already has a large Chinese influence with the development of the so far underutilized Hambantota port and Mattala airport.
Sri Lanka is an important point in China's Maritime Silk Road, which is being developed to ensure its energy security from the oil fields of the Middle East to Chinese ports.
Xianliang assured that China has no opposition to letting companies from other countries, including India, from setting up operations within China-led projects.
"We welcome any third party to join Sri Lanka and China. We are not opposed to India or any other country. China already has many business relationships with India," he said.
The Sri Lankan government is looking at setting up dozens of economic zones specializing in different industries across the island and is in talks with several countries including India, Japan and China to develop and manage these zones.
China is already the largest investor in Sri Lanka, owing to the US $ 1.4 billion Colombo International Financial City—previously known as the Colombo Port City—which will create additional US $ 8 billion in FDIs when the first phase is completed, and more FDIs years down the line.
The project had been halted when the current regime came into power in early 2015, citing inadequacies in environmental assessments conducted before starting the project.
However, the government, which came into power with a pro-West agenda, slowly started to warm up towards China—which was the favoured ally of former President Mahinda Rajapaksa—as FDIs and trade relations with the West suffered due to a weak global macroeconomic front.
Xianliang assured that China did not pressure the Sri Lankan government to resume the project, even though geopolitics had remained the centre stage behind the scenes, as it was revealed recently that the project had reportedly received immense opposition from India, which may have led to the postponement.
"Everyone is talking about the environment and politics, but no one is talking about the 5,000 people who lost their jobs when the construction was stopped. Who is going to pay for them?" Xianliang asked.
China recently accepted an increased land area within the project, in exchange for not pushing for punitive damages for the delay and Xianliang said that the project would resume within one year.
"Prime Minister Ranil Wickremesinghe said that it would resume within one year. The Port City will begin after the monsoon season, because it is hard to do construction with the weather. It will also take time to prepare 5,000 workers," he added.
(Source: Daily Mirror – Chandeepa Weththasinghe)